Remote workers unite!
Being in that same hoodie, having your fridge literally within your arm's reach and enjoying that unbelievably warm April weather from the inside can be a bit overwhelming. However, we are here to share with you some tips that can boost your WFH experience and help you fend off the mopes.
Grab a snack and let's dive in!
Stay safe and informed!
It goes without saying that we should be on guard and follow all preventive recommendations, but we need to resist the temptation of news binge watching as it doesn't contribute to the positive attitude at all.
Make sure to set up a safe place of yours and don't go overboard!
"My powerful computer was brought to me from the office upon first request and it was the fastest delivery in my life!"
Pick up your home office outfit
Wearing pajamas can be a perk for some, but a failure strategy for others!
Don't give in to comfy jammies or sweatpants, especially if you're formally dressed at work. Stick to your usual office outfit to set the right work-facilitating attitude.
"My pet is happy that I spend more time at home."
Recruit your pet to assist you!
That's not a joke! Make the most of your furry companions. Their cute looks and anti-stress capabilities can breathe new life into your working routine! Just make sure your home office is pet-proof enough to succeed :) Purr.
P.S. And don't stress if your pet unexpectedly shows up during your conference call – everybody needs a happy fluffy snout these trying times.
"I love homemade food, but for a long time I did not have enough time and energy to pack up and start cooking by myself, now I always have access to my lovely kitchen"
Enjoy these rare moments of people-free environment
Now you can listen to music headphones off, dance in-between the rendering process or even sing out of tune – no one's there to judge.
Spread Out
We are sincerely happy for those who are not alone in these trying times – it's a good time to devote more time to your family and loved ones. Still, it's crucial to set up your boundaries and mimic the working conditions by intentionally planning "together time" (meals, watching movies) and "separate time" in separate rooms, if possible (working, reading, learning).
"I was always curious how it's like to work from home, it had such a romantic aura, but the first week of doing so has become quite a challenge. Now I have adjusted and arranged everything, but I realized that as soon as quarantine is over I will be happy to return to my favorite cozy office"
Set up an office space of yours
Culminating from the previous point – it's above essential to dedicate a corner to become your fortress from distractibility and your inmates as well :)
It can be of quite a small size, but completely yours. Hold out until the end!
Don't forget to keep in touch with the world. With style
Video-conferencing has never been more "in" than now, and it's understandable – we still like to enjoy face-to-face communication and mimic actual human interactions, that's why we love such apps as Zoom, GoogleMeet, Houseparty, etc.
Pro-tip : If you are in team "Zoom" and want to make your video-conference experience more enjoyable – make the most of the backgrounds provided like our CBDO Maria did. That will definitely help you activate the out-of-the-box button and build a new-level relationship with your colleagues.
Check out the best ones by the link.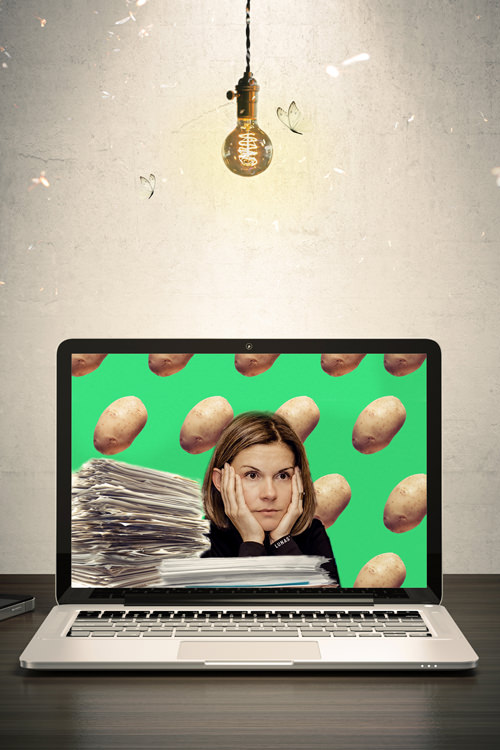 "I love my job, but I take against the commute, now the problem is solved and I just love my work"
Stay calm – stay cool!
Isolation may seem a blessing for some and a necessary evil for others. Keep your mind off this – just cool off and work on your remote style like our Chief Technical Officer Max.
"I already imagine how everybody will return to office and we will definitely celebrate it."
Be on the positive side!
For now, the best thing you can do for yourself and your folks is to be supportive and look on the positive side of the experience! Don't underestimate the power of a smile :)
Stay safe and be your best remote self!