The real estate market has proven itself to be quite sensitive to what is happening locally and in the world in general. Though we are already getting out of the pandemic, some of the restrictions remain and developers still have to reconsider their resilience, priorities, and marketing strategies by adopting new safe cutting-edge tools to showcase and promote their properties.
LUNAS has always tried to keep up with ever-changing market demand in all fields where we can be of help and has favorably adapted its interactive real estate marketing/sales software L-TOUCH to be viewed not only on showroom touch screens but also in the web browsers on all possible portable devices, namely, laptops, tablets, and mobile phones.
L-TOUCH is a 3D presentation of yet unbuilt property in its actual surroundings in the photo-realistic quality with an intuitive interface that has a bunch of customized features to offer.
L-TOUCH presentation of Birla Niyaara Worli project for Birla Estates Pvt Ltd
Birla Estates Private Limited is a wholly-owned 100% subsidiary of Century Textiles and Industries Limited that is a part of B.K. Birla Group with a 100+ year history. Birla Estates specializes in high-end mixed-use developments, comprising high-rise luxury residential buildings and commercial development. The developer pays special attention to sustainability doing their utmost to meet international environmental standards.
LUNAS has been entrusted to showcase the Birla Niyaara development – a premium class residential complex in the iconic upscale Worli in Mumbai designed by Foster and Partners. The complex will spread over 14 acres and include several multistorey dwellings with a highly developed infrastructure and top-notch amenities of all kinds from library cafes to open-air movie theaters.
For this project, LUNAS has developed an interactive presentation of one of the towers including the clubhouse and exclusive on-site amenities. The building is a true skyscraper that towers above the city and is visible even from the most outlying city areas.
To make the unit filtering process for the tower of such a grand scale more convenient we have incorporated the ability to apply filters not just to all building apartments but also within each tower part separately.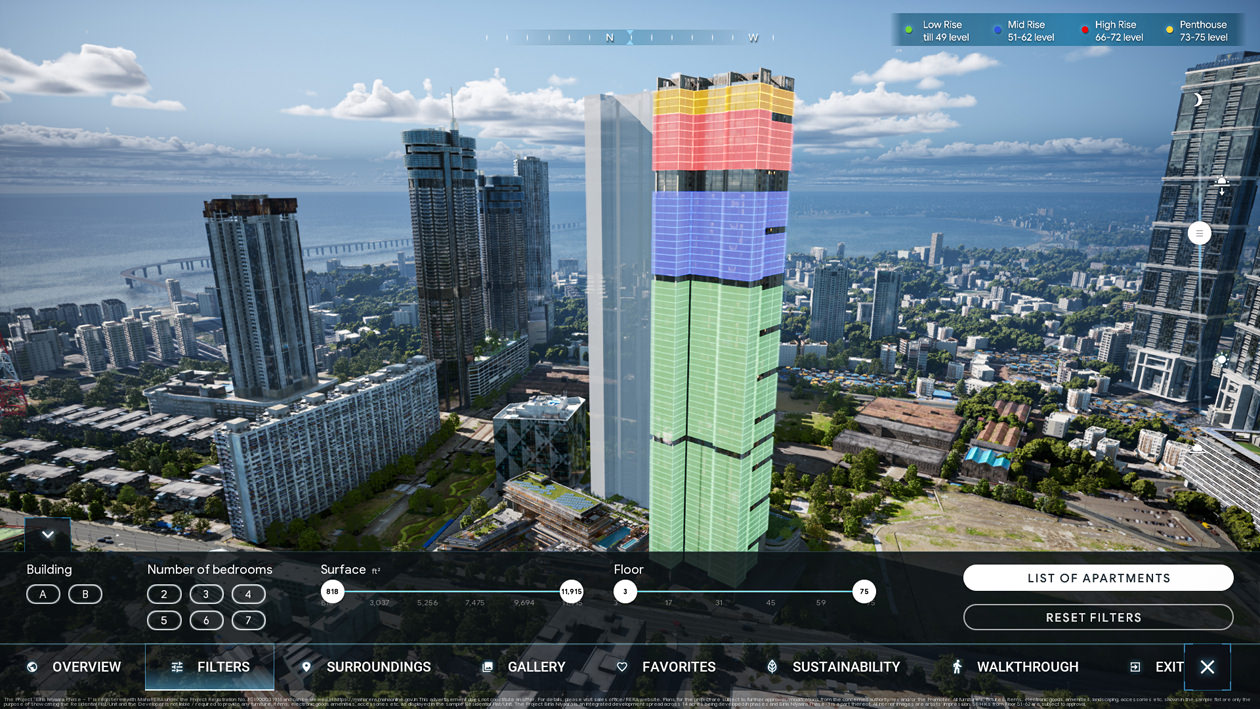 The web version will be integrated into the Birla Niyaara dedicated website very soon. We have also added additional viewpoints for each building part so that remote prospective tenants can have a closer look at them to decide what part appeals to them the most.
We offer you to try this project web version at your own pace to learn more about its features:
One of the most thrilling basic features implemented in the L-TOUCH app is the ability to displace the sun in its real course from sunrise to sunset. This gives viewers an opportunity not just to see how the upcoming development will look like in different lighting but also to track the sun movement directly from the unit they are considering as each unit pop-up card has a window view button by pressing which customers can see the view from this very apartment. As Birla Niyaara development is located in Worli, the heart of South Mumbai, this feature is a must to win customers' hearts.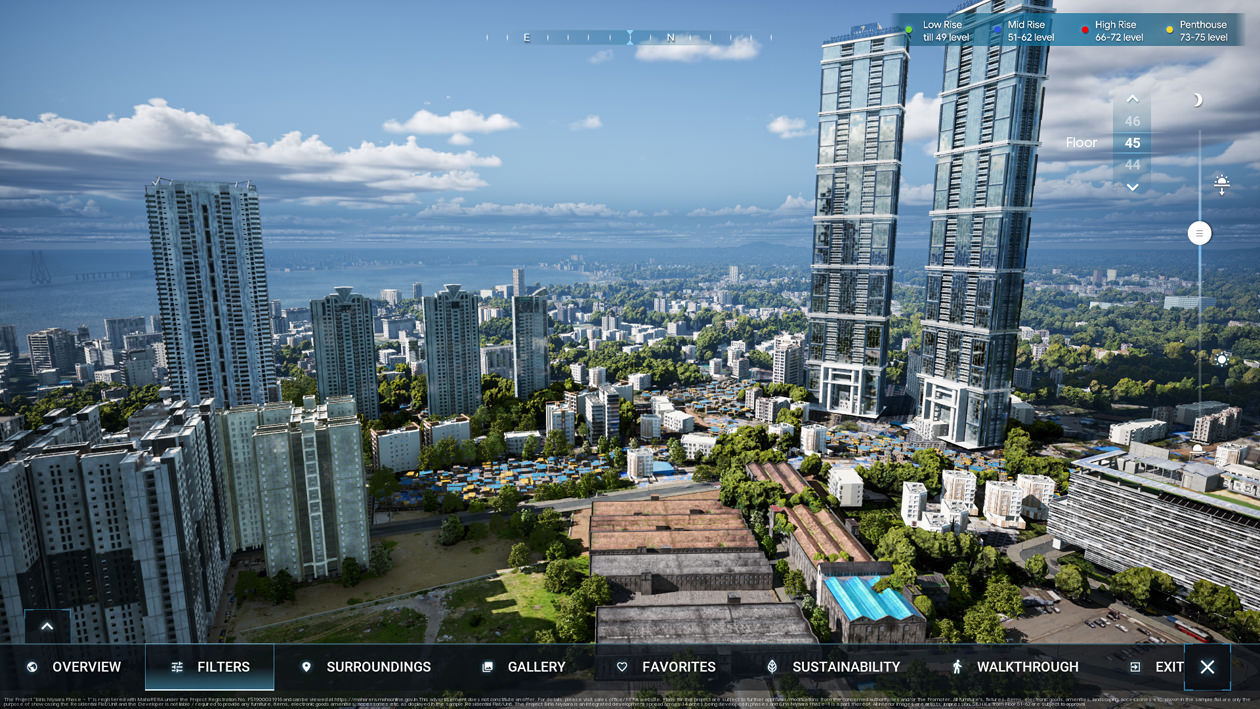 Speaking about the Birla Niyaara location, it was also essential to highlight the main landmarks and public conveniences located nearby. The surroundings tab shows the districts and the city map with the infrastructure facilities of different categories from hospitals to leisure clubs grouped accordingly. By clicking on the markers you can get the main info about each amenity as well as see their photos *. All of that helps future tenants to get a more comprehensive understanding of the property location and what it has to offer.
* These pictures as well as other supportive imagery and 360 panoramas needed for the project implementation were taken by the Indian drone photography agency PixelDo.
One of the most interactive and entertaining features of the Birla Niyaara 3D presentation is a game-like walk-through around the exterior facilities of the site. You get a chance to wander around the development and its amenities at your own pace like you are literally walking there on your feet. Don't worry if you get a bit tired of strolling you can always open an interactive map that will teleport you to any point you choose.
This feature can definitely gather a crowd around your touch screen and helps customers better feel the vibe of their future home both in the day and night settings. We can also optionally add some fellow companions to make the experience even more immersive.
Birla Niyaara Worli has an enormous number of absolutely amazing amenities from children's playgrounds to relaxing spas. To make the visual materials more varied the gallery tab has interior panoramic tours that give a 360° understanding of the comforts at tenants' disposal.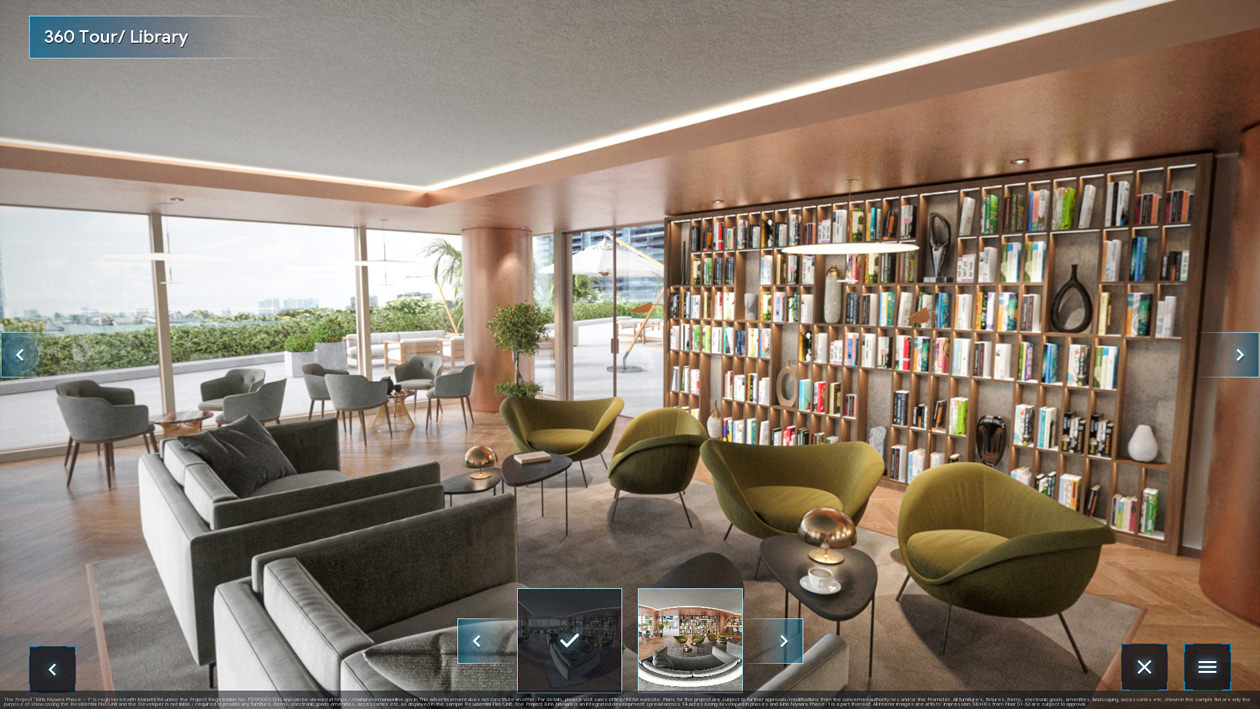 Birla Niyaara is India's only LEED platinum residential project certified by the U.S. Green Building Council. That's something not every developer can boast of, that's why the software has a special tab devoted to Birla Niyaara's sustainability. This is an illustrative example of L-TOUCH customization to your particular needs, we can always find a way to integrate your project materials, so just let us know about them and we'll get back with a bunch of ways to implement them.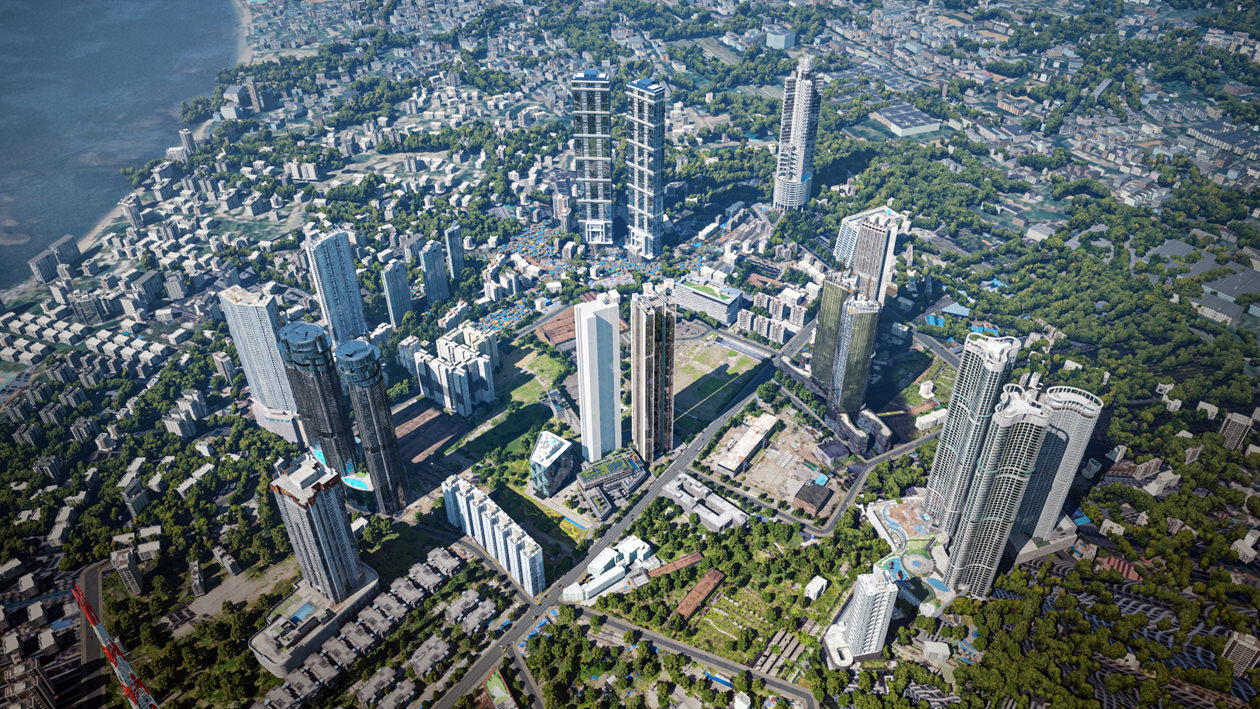 The Birla Niyaara L-TOUCH presentation has already been placed in the 'Birla Niyaara Experience Center' in Mumbai and helps sales managers to attract customers.
Client's Testimonial