I change into an elegant VR headset covering half of my face, grab a hand controller and set off for an interactive virtual reality tour throughout my apartment to-be. I can look around the kitchen, pop in the bedroom, turn the lights on, rearrange the wineglass on a dining table, move around the sofa in the living room, tone down vibrant upholstery, check that beautiful view outside… Pretty exciting, isn't it?
Virtual reality simulates physical presence in a computer generated space by interacting with vision, hearing and other senses. On top of its use in healthcare, industrial design and urban planning, military industry, art, filmmaking and entertainment, the residential and commercial real estate markets are the most profitable areas the VR technology can be employed in, enhancing both digital and human dialogue with clients. The technology is actively used for modeling and demonstration of interiors and real estate objects and mainly resides in developers' sales offices. Virtual tours assist buyers to judge the apartment layout, the view from their expected residence and even furnish the rooms.Advanced VR technologies serving construction and real property markets:
3D walk-around tours as a presentation and selling tool for yet to be built real property projects have long enough been on the market. Architects, developers and designers are the ones to benefit most from using it and testing their guesses on proportions and structures, while urban planners can have broader views of cities before they start operating changes. When modifications find a satisfactory place in the VR, they can be safely applied to reality. The most popular to date technology of virtual tours based on 360-degree panoramic renderings appeared and began to gain popularity in the real estate market in the distant 2000s.
The figures confirm the exceeding profitability of virtual reality (VR) and augmented reality (AR) technologies. Analysts at Goldman Sachs Research believe that by 2025 this market will hit $80 billion.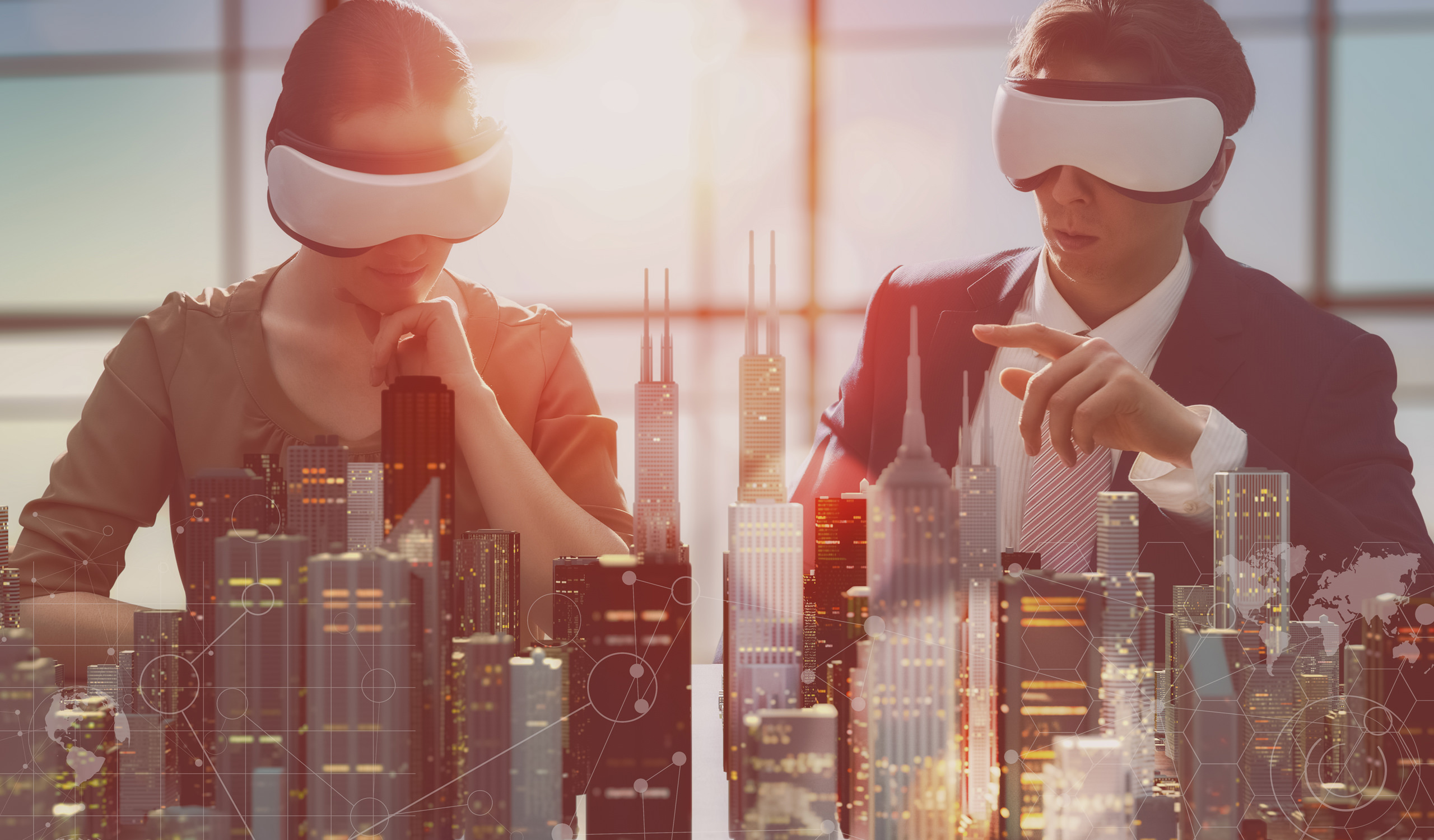 Benefits of virtual reality tours for developers and construction companies
As investing into an apartment causes the greatest mixture of worries, hopes and doubts, it is of ultimate importance for agents, construction companies, interior design studios and real estate developers to effectively demonstrate the product with virtual reality technologies (a new office building or city development project, suite or layout yet to be built, furniture / lighting / amenities plans, etc.) and show where exactly a dweller will live to tame unwarranted expectations or dissolving the questions of potential investors.
Not everyone's abstract thinking and sense of space are equal. It takes a special talent and skill to envision a future flat's layout during construction looking only at a black and white copy of master plan or a colorful marketing brochure providing nearly as much information. At best, the customer will be shown a concrete box that he will move into a few years later, and at worst – just a flat with a similar plan in another house on another floor.
Here the VR glasses or headset come to rescue, that have made a real breakthrough in architectural visualization and ways of showing residential or commercial property to clients. Therefore, major developers and realty market professionals single out interactive virtual 3D tours from other marketing tools to pinnacle the quality of their services.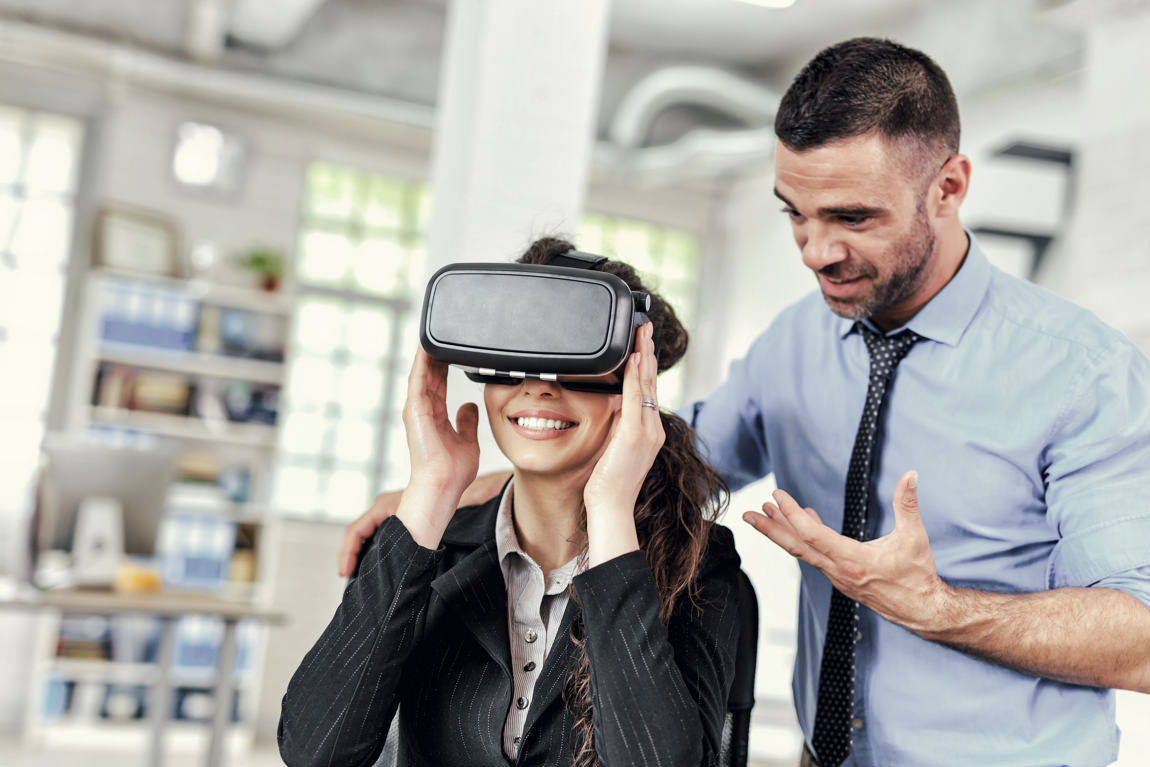 Real estate developers most often apply the following scenarios for the use of VR:
Visualization of apartments using 3D tours on the website.
Placing panoramic tours on the website of a constructed or unbuilt property allows users to explore the residential complex at 360 degrees in the browser window.
Mobile VR.
A mobile application is easily downloaded to the buyer's smartphone for watching a walkthrough tour outside the office using the cardboard.
Productive presentation with 3D goggles or helmet in a sales office.
The VR tour packed in a mobile software is demonstrated to customers in the company's sales office along with other media materials.
VR demonstration at trade shows and industry events.
To boast about up-to-date projects right on the booth, developers distribute VR gear and a link to install a mobile programme with a tour.
Interactive VR presentations empowers customers not only choose an apartment, examine the building facades, assess its size, layout and interior design, but also decorate the future housing and evaluate the real view from the windows without getting up from the sofa. With panoramic tours, you can support cross-regional sales, when the buyer is physically unable to visit the demo area. Customers from China and the United Arab Emirates are already buying apartments in Britain, Switzerland or New Zealand the same way.
Benefits of virtual reality tours for developers and construction companies:
Interactive tours of virtual reality add to the level of reputation and faithfulness of the developer and make the service unique. Given the novelty of the VR technology, you will be the one moving the real estate market forward. Generally, customers buy property 1-2 times in their life, being likely skeptical or dubious about the market. Therefore you need to manifest your reliability and loyalty to the client, no matter how all property agencies are praising you.
Virtual reality is a brand-new standard of communication with consumers, who always want to know what they are buying, whether the layout or total area will suit them right. Thanks to the full presence effect, walkaround VR tours allow experiencing the real size of all rooms shaping people's ideas about contemporary interior and architectural design trends.
Show your client's future apartment in virtual reality and sell an unforgettable feeling of comfort, when only the foundation of a new building is laid.
Remember the bulky and costly mockups of residential complexes that developers used to put on display in sales departments? Is this expensive toy worth the effort? You are unlikely to achieve anything more than a weak wow-effect. This antiquated leviathan no longer amuses anyone, while VR is a worthy successor that can be used much more functionally and will entirely warrant your investments. The VR/AR Association (VRARA) 2017 studies show developers using the following media to demonstrate the property to buyers:
82.7% – 2D plans of the apartment to-be;
44.2% – exterior images of the building (architectural photos or 3D renders);
29.8% – interior images of the dwelling (photos or 3D graphics);
21.2% – 3D floor plans;
10.6% – panoramic tours (real or 3D);
1% – virtual reality presentation.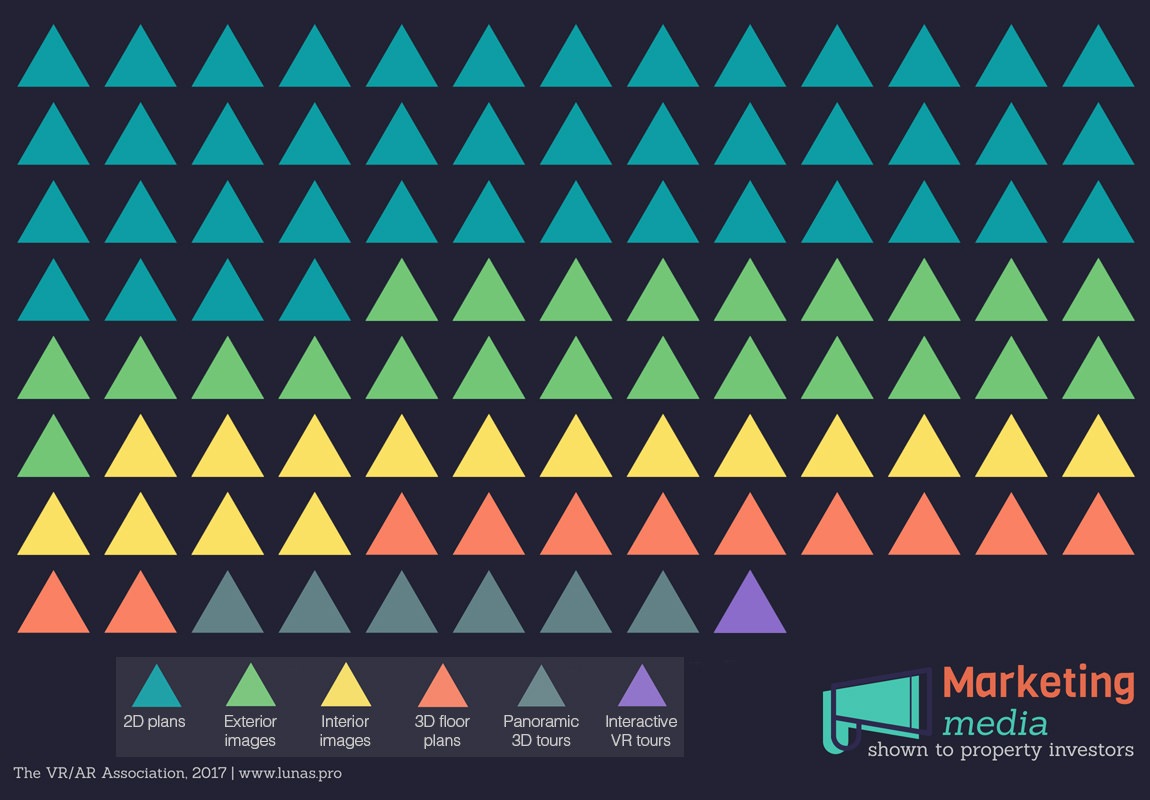 Thanks to real-like 3D visualization and sophisticated VR gear, the developer gets a competitive advantage – the possibility to show a real apartment. Anyone wearing a virtual reality headset can get inside the future place to live. Therefore, sales managers bring VR goggles right on the construction site when it is possible. He will be able to answer the questions like «How much is 50 square meters and what will fit in there?» without having to calculate on fingers, but with the aid of a real excursion in virtual reality.
Beyond the illustrations, the agent can answer the client's inquiries using tangible experience. First, the customer walks around his new flat feeling its size and dimensions. Then, with the gear on, he looks at the familiar space that is not just bare walls but perfectly furnished and decorated, with a cozy atmosphere. The layout and number of meters are the first to give a visual representation of the future residence. One can experience a visit to a new home, pace up and down the rooms and look into every corner, arrange the furniture matching the chosen interior design. Wondering if the ceiling height is sufficient? Simply put VR glasses on, raise your head and assess its height by yourself.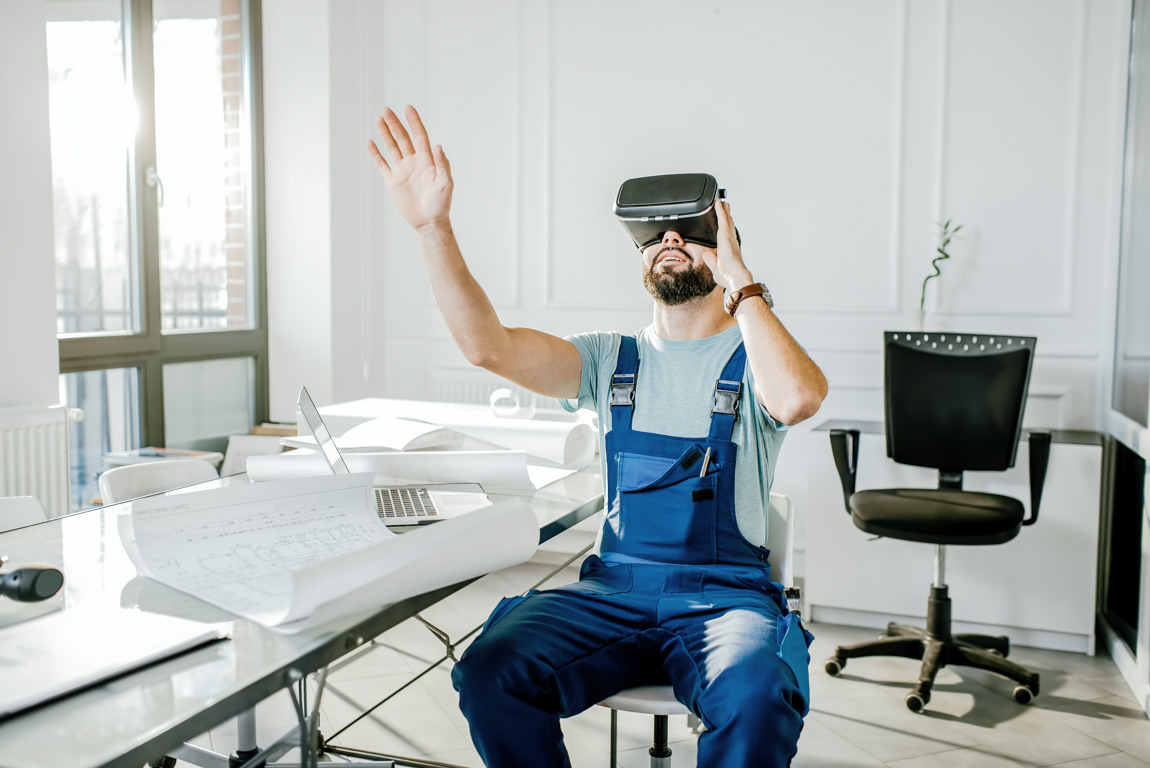 The introduction of virtual reality in the workflow of construction and real estate companies is a double win for all parties involved:
Developers and agents get the opportunity to exhibit assets with ongoing or yet to break ground construction. Even at «excavation stage» you can effectively sell flats or offices before the showroom or demo suite is ready.
The potential buyer goes through the whole cycle from the first acquaintance with the property to settling down in just half an hour. Psychologically, it is easier to perceive what you are about to pay for when you see it with your own eyes, even in special glasses or a headset.
This gives an advantage when striving for customer interest by clearly demonstrating the additional benefits of the building to potential customers while the house is being built. Any way, the close walk around apartment tour will create a positive emotional background and increase loyalty.
Advantages of applications based on augmented and virtual reality
The latest technology enables the buyer to see how a particular kitchen unit will look like in his suite, whether a certain tile and accessories, household appliances will go well with it. Depending on who came to the sales department, the same space can be filled with accessories of a bachelor party or with a baby's room paraphernalia. Now, what about the local area? Certainly, it's better to see it once than to hear about it a hundred times. Yet it's loads better to have a first-hand look at your future entrance or a playground where your children and grandchildren will play on, to find out if there are good grocery stores within walking distance and how far the public transport stop is, to check the parking lot.
According to virtual and augmented reality association VRARA:
40% of buyers confirmed panoramic tours played a significant role in making a purchase decision;
45.2% of apartment buyers made an investment faster after viewing 3D or VR visuals other than 2D layouts;
55.8% of customers confirm that visual, 3D and VR content helps them compare offers from different developers;
72.7% of clients positively evaluate panoramic tours offered by developers.
3D graphics is a visual aid to answering customer's questions during stages close to purchasing. Let's say, the customer has made it to the sales office to pick out several apartments and now is wavering between a spacious two-bedroom and a three-room studio. At this point, you offer to put VR glasses on and try walking around both options. That's when the interactive 3D tour does the trick. The person makes his informed choice instantly, without hesitation or further ado. So we don't risk losing an indecisive client to competitors. The use of specialized augmented and virtual reality applications by realtors has already become the norm. There are a number of reasons why you should use VR tours to market real estate, as the top construction companies do.


The most valuable advantages of applications based on augmented and virtual reality are:
Mobility
The entire residential complex with courtyards and infrastructure, planning and interior in sits in your pocket on any modern mobile phone or tablet. All you need to dive into augmented reality is a mobile gadget and a marker for image recognition. In the case of virtual reality, you may require a headset or goggles. For these purposes, Google Cardboard or another budget VR kit are perfect.
Interactivity
Want to see how the future apartment will look like with furniture or fashionable interior design? For mobile AR and VR applications, it's no problem. With just one click remove the entire floor to examine the layout of the flat next door, climb through the ventilation system or see the neighborhood and feed virtual pigeons sitting on a virtual balcony. You can even change the time of day to see when and how the sunlight will hit the rooms.
WOW-effect
A walk through the future flat and local area with carefully executed details, animation and visual effects will impress even the most sophisticated client.
Communicability
Social interaction with clients is vital. Specific functions of some applications can help realtors to:
– find out when the potential investor is planning to probe for a specific property,
– identify the client's interest in a particular residence (number of rooms, floor, total area),
– determine the optimal and desired location of the property for each individual customer (neighborhood, street, public transport spot, etc.),
– most «savvy» applications can identify the client by receiving links to his social network accounts, email address and telephone number.
Scalability
The visual solution and interface can be enriched with new models, functions and features on demand.
Versatility
Interactive virtual reality tours can be shown in sales offices, at industry events or be installed on a client's smartphone for viewing anywhere in the world.
Increasing sales with VR technology on real estate market
Emotions sell. Since other brain processes and more levels of perception are involved, it leaves a more profound impression. Unlikely could one get such detailed information browsing through countless photos or 3D renderings of apartments on real property agencies websites or scrolling through pages on bulletin boards. VR technology is a communication tool, not a «silver bullet» for increasing conversion or sales. It doesn't answers the most important questions the client has: the price of the property to be obtained, the grounds for concluding transactions, contractual relations, and the company's ownership of the land plot. There is a huge array of technical and legal issues that cannot be excluded from the routine.
The interactive VR tour cannot replace the sales manager. Nor is it a conversion tool that guarantees profit or market grow on its own. Most importantly not only to show the 3D environment at the right time but also to continue the sales operation up to closing the deal. There is no such displaying or figurative solution that is able to 100% influence the decision making process. What it can help for sure is to make choice in your favor.
Virtual reality is a game changer, that has gone beyond innovative entertainment. The rapid development of new technologies made the immersion in the computer generated world more comfortable and user-friendly without significant financial losses. According to experts of major investment companies, including Goldman Sachs, the technology boom is expected in the coming years. VR glasses and headsets will become as popular as smartphones. The selection and buying of real estate, discussion and presentation of property using virtual reality will be commonplace for companies of all sizes. Eventually, every player of the expanding market will have interactive tours and VR tools in their arsenal, especially those who value the customer, care for the reputation and keep pace with the times leaving the competitors behind.
How Lunas Studio creates virtual reality tours
3D visualization has always been one of the most effective ways of presenting an exterior or interior project. Frequently architects, designers or realtors use still images for this purpose. Let's move beyond that together, go interactive today and benefit from architectural virtual reality tours made in UE. Unreal Engine is a world-class toolset to design navigable CG environment and is used across the industries of video games, film and architecture. As a new means of representation, architectural walkthrough becomes an excellent design tool to help clients visualize and make decisions about future spaces.


Just imagine yourself walking around a building or a room, peeking into it's every corner, choosing between options of interior finishes and immediately comparing them in different lighting conditions, all in real time! These are the very features of Unreal Engine interactive virtual tours created by Lunas studio. For complete immersion in VR, interactive elements are added: opening / closing doors, musical background, special sound and visual effects to name a few. The tour is created either for viewing on a desktop computer / laptop or for headsets like HTC Vive and Oculus Rift.
Getting started with VR project
Before we initiate the process of creation, we collect essential materials from the client:
Detailed information package containing all the necessary data for VR project performance (see the list of materials for static images);
Areas and/or locations you would like to navigate. The best way is to mark them on the plan;
Interactive elements to include into your project: opening / closing doors, turning lights on and off, shifting between daytime and nighttime, changing colors of objects and surfaces etc).
The effect of presence is enhanced by the sound accompaniment. Interactive walkthrough tours resemble a game, moreover an immersive virtual feel imprints in the conscience as if you already visited the place. Based on the interactive 3D tour, we also generate a cinematic animation video of any length for an awe-inspiring presentation of your project.
Sounds like the right way to make your following undertaking stand out, doesn't it?