Increase property sales with interactive real estate marketing software
Powering real estate business of the future
L-TOUCH is a cutting edge real estate marketing and presentation software built from the ground up by Lunas architectural visualization studio and PropTech company to meet the needs of property industry players.
The interactive 3D application boasts of incredible versatility, extensibility and performance for agents and brokers, developers and construction companies for increased flexibility and profitability on local and global real estate markets.
Great tool to present architectural projects
Run eye-catching presentations of architectural projects. L-TOUCH is an elegant solution to showcase your development in a stunning light – spice up the 3D interactive model with as many details as you wish, to create a full immersion for the spectator.
Perfect way to sell property to picky customers
Advertise commercial or residential real estate property with touchscreen display and easy-to-carry program. No more bulky models — take your presentation materials anywhere you go — trade shows, sales offices or even to your clients' doors.
L-TOUCH Video Demo
The way unbuilt commercial and residential property is presented today at points of sale will never be the same for real estate market professionals and their clients.
Once you've seen a photoreal 3D exterior visualization project running smoothly on a high-end interactive touch table, multi-touch display, giant video wall, in your mobile gadget or on your company's website, a whole new world of marketing opportunities is unwrapping right underneath your fingers.
L-TOUCH Web Version
In the interactive window below you can try out the software yourself:
rotate the model, explore the menu and understand the functionality of the web version.
Reachable on any device, portable and powerful – now integrated into your website. Have a unique opportunity to rotate the model, explore the surroundings, reposition the sun in its natural course, dig into the filter capabilities, compile a favorites list of apartments and see them fully furnished on 3D renders. All of that without weighty equipment or powerful computers – a stable internet connection is all that's needed. Amaze your clients from the first look at your website with L-TOUCH being available there 24/7 for independent exploration.
See into the future and feel it at your fingertips!
The Core of L-Touch Presentation Software
Under the hood of the the application hides the photo real interactive architectural 3D scene rendered by industry-leading gaming engine with proven performance and flexibility.
Lunas L-TOUCH software is visually powered by sleek and customizable interface: each icon, slider and overall look of the program can be finetuned to your demands. Smooth stage transitions contribute to high realism of the rendered space without any side effects among viewers.
Beast inside:
eye-catching photo real 3D renders
At the core of the real estate marketing platform lies realistic architectural 3D model. Introduce the project in all its elegance no matter the scale — ranging from small-scale constructions to massive 100.000 sq m residential quarter with grand infrastructural development. Even in the greatest projects each detail is meticulously worked on: realistic textures, light play on various surfaces to create a wholesome atmosphere.
Beauty outside: custom-built user-friendly interface
The tailor-made interface is based on your company's brand book or references, to create your own special style and have all the presentation materials in line. The software's looks and functionality depend on your wants and features multiple extra perks like 360 panoramas, virtual reality tours, animation videos and interface assembled to suit narrow specialized needs.
Present in front of viewers' eyes a realistic look of the residential area not in development, but already built and equipped with top-tier amenities and entire neighborhood recreated in 3D: modern playground, public terraces or even rooftop pools. Move your hand around on the touchscreen to view all the tower blocks in the area in real-time with stunning detail. When having had enough of the sightseeing, move to the main point – choosing your forthcoming apartment.
L-TOUCH Powerful Features
The application is charged with powerful bells and whistles to make sure you have everything you need in one place to run the show. 100% user-friendly and intuitive interface of L-Touch real estate presentation software is constructed from scratch with «beauty in simplicity» in mind and demands no special skills to navigate.
Real estate CRM integration
Develop long-lasting relationships with clients and strike deals faster
Explore the condos, compare the layouts and decide on the most suitable option. The interactive 3D model of the development retrieves all the info from the CRM platform, showing current information about the flats in stock: already sold, reserved or fully available and their current price. All the data on chosen apartments is compiled into a tasteful PDF presentation headlined by your branded page. Fill in a dedicated customer entry form to follow up the client.
Advanced condo selection filters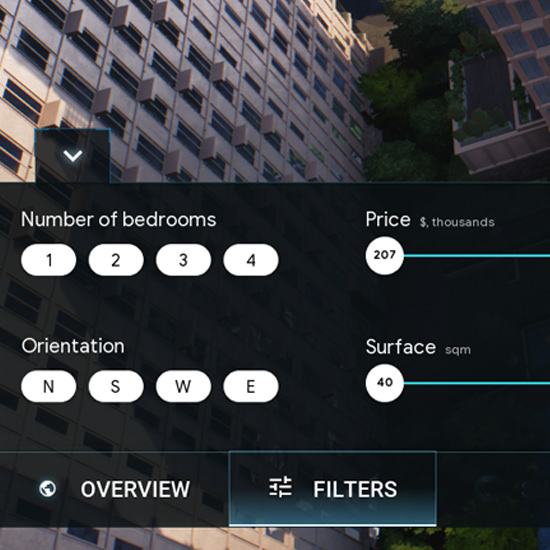 Find the perfect lodging in a matter of clicks
L-TOUCH application features multiple apartment selection filters. Ease your exploration for the perfect lodging. Narrow your search to a target residence, be it a grand 100 sq.m. penthouse looking out on the city, or a small first floor one-bedroom apartment with children's playground in sight. The selected condos (available, booked or sold out) are highlighted in development model with dedicated colors.
Explicit floor plans and condo info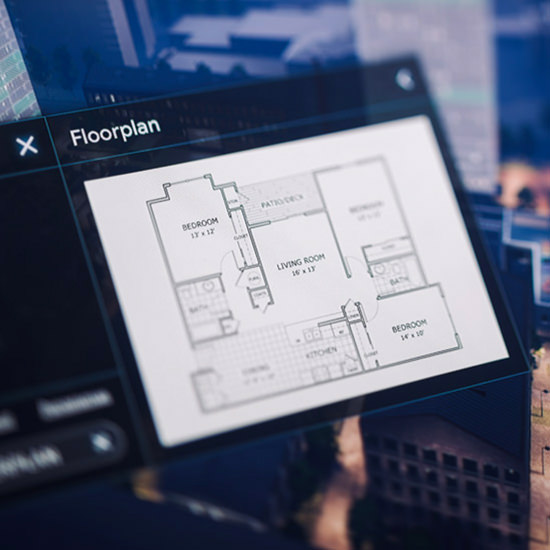 Explore the apartment in closer detail
After tweaking the parameters, cut through the floors and call the pop-up card with the basic info on the potential lodging: floor plan, panoramas and interior design variations. Add the apartments to the special list for later comparison.
Favorite apartments list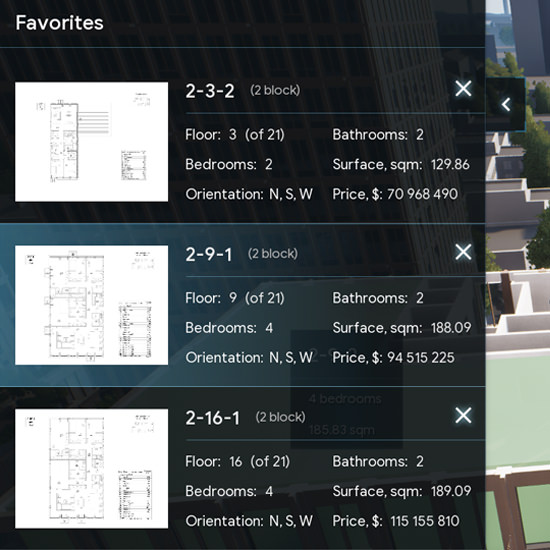 Settle on the best condo option
Favorite apartments menu section is comprised of one or more condos, that you have laid your eye on. By default, the condos are presented in list mode, where the pop-up windows with floor plans and other basic information can all be called to the touchscreen and compared against one another. The lodging choices that have stood the test are comprised into a PDF and are either mailed to the client or printed.
On-site amenities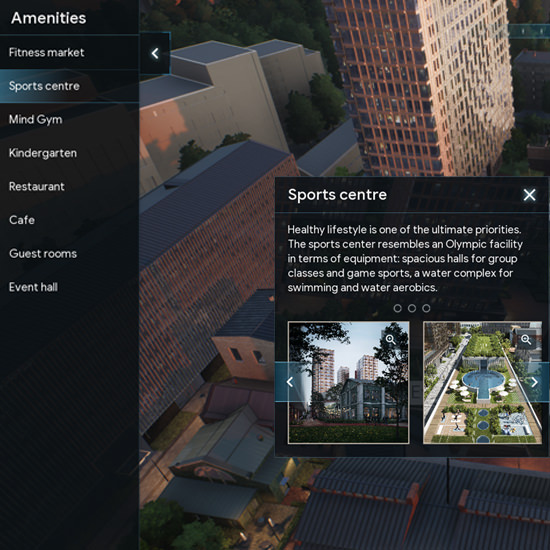 Look into the advantages of the future quarter
Wondering what on-site facilities your future residence has to offer? Children playgrounds, kindergartens, gyms, offices, stores or bars — a small city inside of one residential quarter can become a competitive property sales advantage, if presented properly. Look around and examine all the amenities in detail, tap on them to receive a quick overview accompanied by realistic 3D renderings.
Neighborhood map
Ensure the proximity of all the places of interest
The surroundings is the key point to consider, when deciding between multiple similar development options. Explore the neighborhood map and choose the walking distance to the objects around – 5-10-15 mins for better space understanding. Subway proximity, schools and medical centers, banks and malls — all these matter to ensure the real estate sales agent proposes the best offer for property buyers.
Day and night / weather slider
Walk around the residence in any time of day or season
L-TOUCH sales software can be explored in various settings – be it time of the year or time of day. Drag your finger on the «24 hours» slider, reposition the sun in its natural course and watch your future residence plunge into the night. Or see how charming the quarter will look like in winter, all covered in snow and Christmas lights. The mood is only yours to choose.
Exterior and interior gallery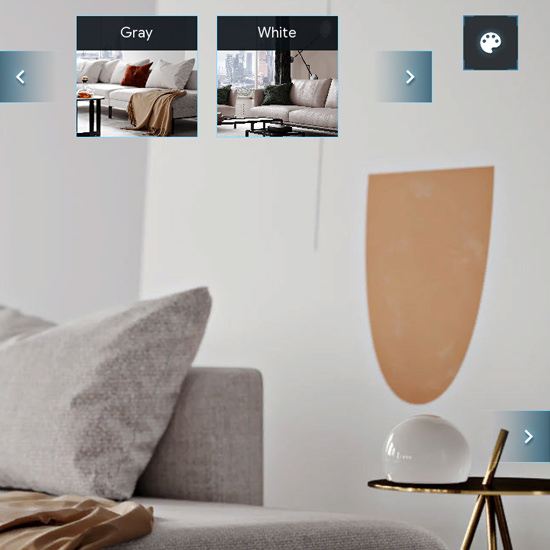 Decide on the condo style, peak out of the window, wander the apartment – see the future now
Marvel at how your unbuilt apartment will look after renovation right away. L-Touch gallery is an eye candy with not only interior / exterior realistic 3D renderings with multiple design options, but also the space where you can find immersive 360's and panoramas.
L-TOUCH Visual Extra Tools
Choose the time of day via dedicated button, see which apartments have the most beautiful mornings, and which are perfect for a dinner with a loved one. Do not limit yourself to solely your neighborhood – explore the whole district. By calling out the «location» menu, get the grip of the local lifestyle by browsing though such categories as: medical services, schools, parks, business, shopping and entertainment. Choose the option that is most suitable for you – be it in the heart of nightlife or a peaceful family territory.
Day / Night Mode
Reposition the sun in its real course, from sunrise to sunset, by moving your finger across the scale, to explore, whether you will wake up with the first rays of sunshine or have the most beautiful sunsets out on the balcony.
Weather Simulation
Weather selector immerses the 3D project into any season – be it winter with snow-covered buildings and trees, or romantic rainy autumn.
District Observation
Virtually walk around the future neighborhood – touch the interactive labels to select one of the general categories such as food & drink, education, entertainment and more to find out all the places of interest in 5-15 min. walking distance.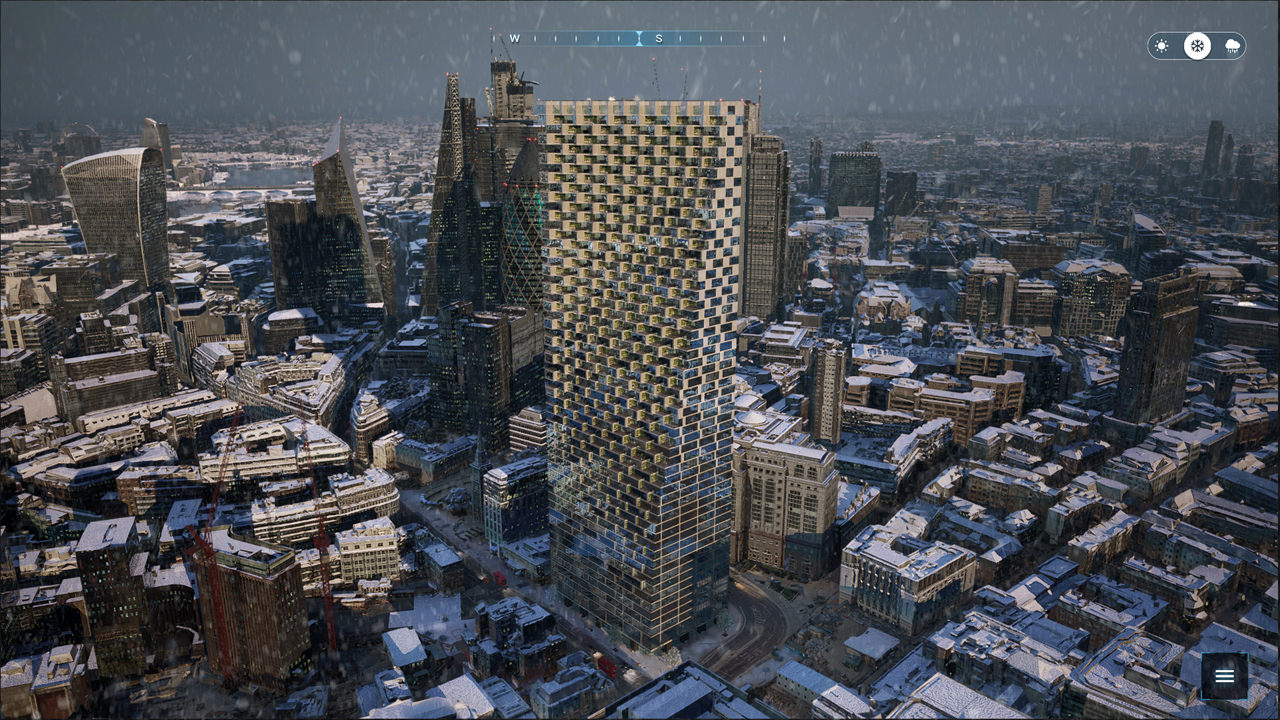 Appoint the space and be amazed at how it might look like when fully furbished according to the latest trends — the «dream» that you will soon possess. Pick the one that most fits your vibe — a man cave for a brutal gamer or a bungalow-style chill place for the newlyweds – possibilities are limited only by your imagination.
Integration with other interactive L-Products
Interconnect L-TOUCH with other Lunas products to ensure full immersion both outside and inside the condos.
L-ROOM Integration
Integrate L-TOUCH Gallery with L-ROOM virtual 3D product configurator. Give the viewer a more comprehensive picture of how the interiors will look like with multiple furniture covers, wall and floor coverings, lighting fixtures and decor items. Showcase the furnishings of all kinds in various materials, colors and in different lighting conditions.
Lunas VR Integration
Contribute to fully immersive viewer experience by taking your customers through multiple interconnected 360 panoramas of the apartments in Lunas VR tour. Move freely through each corner of the space, explore it in various lighting conditions, teleport from one spot to another with just one click.
Frequently Asked Questions about L-TOUCH Software
Really sorry about that. In the past, the hardware did not cope with the amount of data to be broadcasted, causing the latency. In simple words, it was due to the discrepancy between what our brain expects to see and what we actually see. However, the latest generation of the computer equipment allows to neutralize this effect. So, thanks to the combination of top-notch technologies and super quality visuals, it is completely away. Just give it a try or coffee on me!
We surely can – based on your brand book or preferences, we can create L-Touch in any of the styles you wish to see it in. The overall style can affect both the interface and the PDF with the flat information provided to your client upon presentation completion.
For sure, L-TOUCH presentation platform is a product for interaction with the 3D model of the development project (one building or a complex) without any difference whether it serves for residential / commercial / trade or business purposes.
The number of menu sections can be customized to your particular needs and objectives. We'd recommend to range between 7-9 to make it user-friendly and easier to navigate. Moreover, according to a well-known fact about our short-memory capacity, better to keep the mind of your client safe and sound.
Not a problem – the menu sections is designed according to your needs, some lines can be altered, removed or added. We highly advise you to have no more than 10 sections, as to make the information more comprehensible and the menu interface as pretty as it is.
Sure, the information we have now is a basic one, so the info in it can be tailored to your needs. Please note that there's no use in overloading it with info that can be found in the dedicated menu section, in order not to clutter the screen and keep the software running smoothly.
If it goes about the photos – yes, for sure. They can be panoramic images of the actual surroundings, the window outlook, photos of parks, facilities, amenities. What concerns the renderings, no need to say that Lunas creates photo real visuals with no chances to tell the photos from rendering.
Yes, the menu sections are totally customizable. The major features (apartment chooser, favorite condos, amenities research, surroundings, gallery) are yet to be maintained.
L-TOUCH can be successfully pared with major and most popular customer relationship management and property management software for real estate companies: Salesforce, HubSpot,Freshsales, Pipedrive, Zoho CRM, amoCRM, OnContact, InfoFlo, vCita, Copper, Scoro, RevampCRM, Spin, The Wise Agent, CompanyHub, RealOffice360, Dealpath, RealSpace, etc. So you won't loose a fraction of functionality of your sales office whatever application you're running.
The PDF presentation is formed according to your set criteria. Typically, the first and last pages are project-branded with the selected apartments' layouts and general info in between.
We can integrate the software into your website, but we need to further discuss the features you would like to have, maybe cut down on some interactive points (as currently the scene is a pretty heavy one) not to overload your website and keep it smooth-running as it is now.
The similar application of other companies also deserve attention and praise. We dare to say that one of our main objectives is to make the user experience as easy and effective as possible. The interface of L-Touch contributes to its convenience in project exploration. Moreover, if it goes for architectural visualization, the Unreal Engine surpasses Unity, making the 3D scene most realistic. Unity gaming engine allows multiple functionalities, however, the Unreal Engine provides a better graphics quality.
Currently we're reviewing the possibility to port the software to mobile gadgets. But the model we're currently running on personal computer with multi-touch display is rather heavy and highly detailed one, requiring a powerful video card to support it. If need be, the program can be run on very powerful portable device, the model will be a low-poly one though.
The price corresponds to the project complexity and scope of works. It is accurately defined at the project initiation stage.
Currently, the info from the CRM system connected to the website/ full-version software is updated during website/ software loading. Upon request, we can also introduce a specific interval of update or when "Filters" section is being opened.
Currently, the info from the CRM system connected to the website/ full-version software is updated during website/ software loading. Upon request, we can also introduce a specific interval of update or when "Filters" section is being opened.
It depends on the connection speed of the server (client's computer). If it is common 100mb/s, then it should be enough for 10 people. But it is worth remembering that they will all see the same image. And at the same time, only one person can manage the stream (ie one on a tablet will turn the building, and the other 9 will see it. Therefore, there is usually one person controlling and everyone else watching).
In general, the calculation is: one computer = one simultaneous application (this also applies to touch screens respectively). However, there is a more advanced option of partnering with a dedicated company, that can allow as many entries as needed.
Request L-TOUCH Demo
Discover how Lunas L-TOUCH marketing platform helps to ignite the spark of interest among current and potential clients and invigorate your property sales growth.
L-TOUCH Real Estate Software Case Studies