Client: Vesper
Domain: High end residential property developer
Location: Moscow, Russia
Main task: to create a bespoke solution containing all marketing materials for interactive touch-screen presentations of future luxury development in a sales gallery; to enable remote access to L-Touch presentation via streaming to maintain the ongoing sales process during the lock-down
Realization time: 4 months
L-TOUCH marketing software at the core of on-line and off-line sales of a hi-end residential district in Moscow
L-Touch presentation software was developed as a custom solution to tackle challenges of marketing and selling to-be-built property with a mission to immerse and engage prospective clients regardless of the current construction status. The technology allows potential buyers to make an all-inclusive acquaintance with the future residence and most importantly it creates an emotional bond with the marketed development long before it is completed and ready to be visited.
Vesper Development Company and Lucky Residential Project
Luxury real estate development company Vesper is known for over 10 bespoke residences at the most landmark addresses in Moscow, Russia. Their professional approach is embodied in renovation projects for vintage buildings and cultural heritage properties, which have a new start in the world where technologies are dominating. The new Vesper project at the very heart of Moscow is the hi-end residential district Lucky that will consist of eight towers, three business centers and a socio-cultural cluster with event halls, cafes and restaurants, sports and educational centers. For this new enterprise the developer was in search of an all-encompassing marketing tool that would target a broad spectrum of potential clients and overall upgrade their property sales process.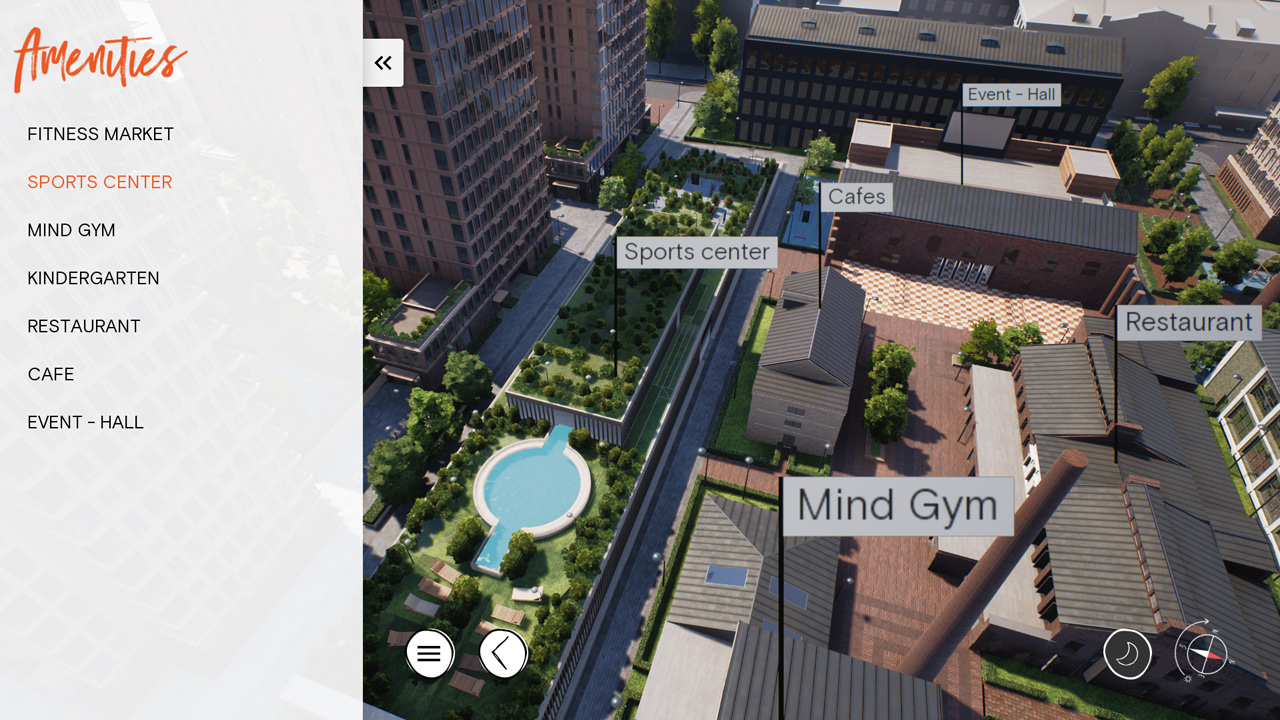 The solution was intended for a real estate sales office equipped with a touch-screen and a video wall thus to incorporate all of the visual materials in one place for a detailed exploration of the future development. The main objectives were to enable the potential resident to virtually navigate through the entire district, get the core information about on-site amenities, search for the most suitable property among multiple options, and eventually seal the deal.

Real Estate Marketing Software for Russian Development Company
To address this challenging task Lunas developed the interactive presentation software L-Touch with its name suggesting that it will unwrap a completely new level of marketing opportunities right underneath your fingers. At the core of application lies the highly detailed architectural 3D scene of the district in its actual surroundings rendered by a powerful gaming engine. Projects of any scale, from a single building to a massive residential quarter with a grand infrastructure, can be presented in this software. The viewer can rotate the 3D scene and fly around to reach every corner, zoom in on the slightest details. Smooth stage transitions and visual extra powers such as day/night mode and different weather seasons contribute to the highly realistic immersive exploration.
L-TOUCH Software Interface
The interface is charged with a variety of highly illustrative marketing materials. The gallery of still interior and exterior renders demonstrates the look and feel of the future lodging. Integrated VR tours take the viewer on a journey where he can experience the future now – wander through the apartment, try out different interior styles and lighting conditions. 360 balcony views demonstrate the magnificent panorama of what the future apartment may overlook.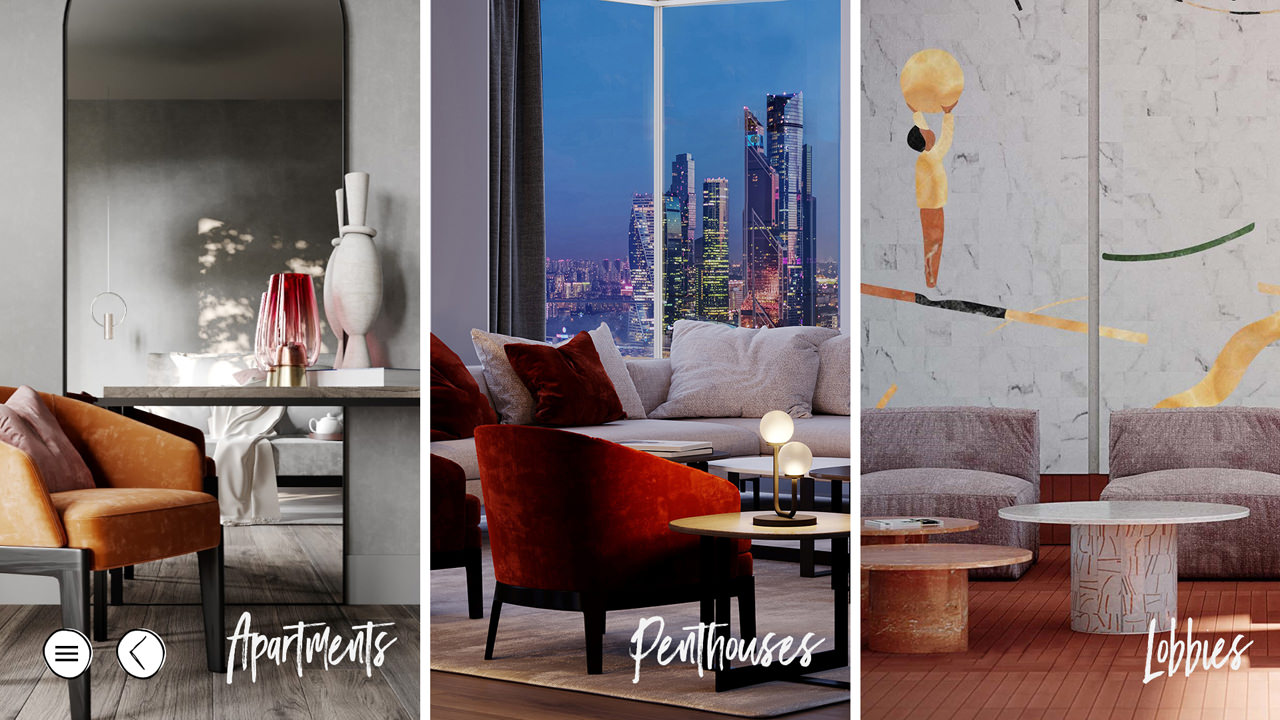 Property Search Filters
To help the customer find the perfect lodging in a matter of a few clicks, the platform is powered by dynamic search filters. The units matching the set criteria are highlighted in the 3D model of development. The customer can explore available unit options by cutting the building into floors and browsing through them. The pop-up-window of each unit contains the essential information with the floorplan, concept renderings and a balcony view. Chosen units are displayed as a list of Favorites and also can be mailed to the customer or printed out. Real time integration with CRM helps establish close client relations and strike deals efficiently.
Interactive Neighborhood Map
Interactive neighborhood map with categorized points of interest shows the proximity of key facilities. On-site amenities such as children playgrounds, parks, gyms, offices and stores are marked throughout the district with interactive labels with a quick overview and 3D renderings.
On-line Streaming in Work From Home Reality
With the changes brought by 2020, many real estate businesses needed to adapt the conventional client/manager interaction to WorkFromHome reality. In the case of our client Vesper, it was more of a pressing issue. After a mandatory lockdown was imposed in Moscow, they had to completely suspend live client meetings in the sales gallery with interactive touch-screen presentations. Lunas enabled streaming L-Touch presentation as a perfectly safe substitute to the routine sales session. It requires neither physical presence, nor advanced hardware. We ensured that, no matter where Vesper sales managers and their clients were, they were still able to meet in one platform using just a web link and make the most of L-Touch capabilities.
Advanced Interactive Solution for Property Sales
L-TOUCH proved to serve as a solid extension to real estate sales offices and cater for any type of property: residential complexes, office blocks and the hospitality sector alike. With the latest adaptation, this interactive solution can be seamlessly integrated into both offline and online client meetings. The software is powered by highly efficient tools to make sure you have everything you need on one screen to run the whole show: present your development in real time with stunning detail, engage the customers and give an extensive overview of what you offer, and enrich your business with long-lasting customer relations.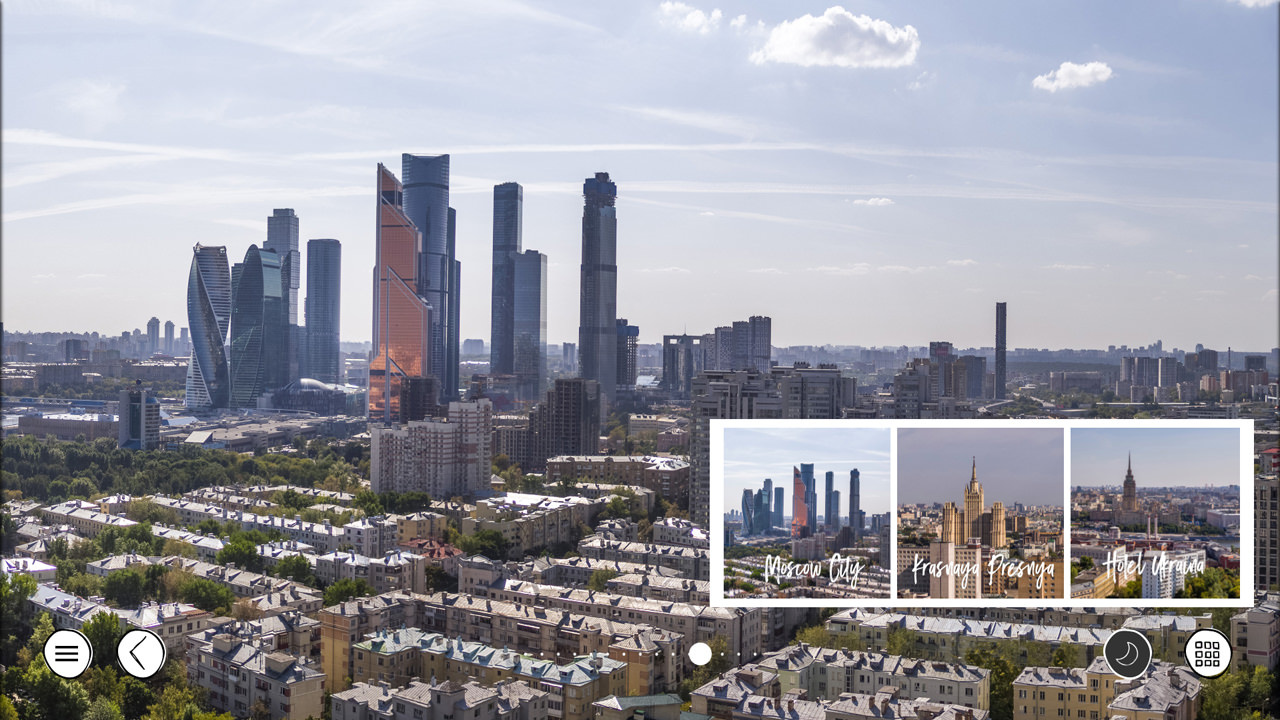 Client's Testimonial
The decision to work with Lunas on creating software for marketing our development has truly changed our work processes for the good. The innovative approach to apartment sales has not only impressed our clients but our managers who were among the first ones to fall for it.

Throughout the whole project, Lunas has been always there for us – adapting to our needs, solving technical issues, and implementing all the required features. Upon our request, the VR presentations were transferred from the helmet to a touch screen, for further customer comfort and safety.
It is worth mentioning Lunas' flexibility and creative approach to problem solving.

We have all been struck with COVID-19 and the unforeseen Work From Home reality, so at that time we felt like our accustomed way of selling property was at stake. Their team came up with Online Streaming as a completely safe substitute for an immersive sales presentation experience that can take place in any client's home.

All in all, Lunas has been a great partner to work with – attentive to details, creative, professional, and, most importantly – willing to go the extra mile to ensure the best product delivery.

Natalya Gelasimova, Marketing Director, Vesper Company