For Lunas studio 2022 has been another journey to new heights in the booming industry of 3D visualization and PropTech. With new encounters and challenges, familiar paths taking unexpected turns and the whole world around us changing overnight – we keep going and perfecting what we love to do the most, turning the unreal into real.
Here we celebrate our company milestones, share aspirations and memorable things that made our year.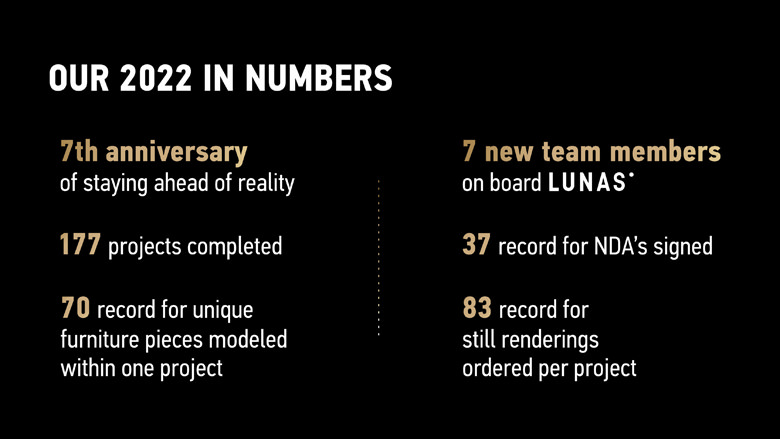 Interactive L-Products Walk of Fame
Our family of interactive products based on Unreal Engine kept growing to include:
Beyond still 3D renderings, we also created a great number of cinematic 3D animations, including this particular one made with the latest Unreal Engine which we are thrilled to employ as our additional asset for unprecedented realism and quality of visualization.
2022 Through Our Customers Experience
Our Clients' Testimonials
We highly value our every regular or new client and their opinion as they help us grow and perform better. It is our pleasure to share some of their honest reviews that outline Lunas as a reliable partner for high standard visualization services with focus on accurate timing and strong communication and processes at every project stage.
The main driver of our relationship with Lunas is their reliability which is highly appreciated in this particular region of the world. Flexible enough to accommodate specific needs in an expedited timeline yet always focused on quality. Communication has been easy and straightforward, being able to keep the good mood at all points of the project. Basically, they are fun to work with!
Alvaro Guinea Martin
Feather Management Consultants, UAE
We are continuously impressed with their quality of work delivered. This includes everything from proposed wireframe angles and lighting to the small details and overall realism of the renderings. We look forward to working with Lunas for years to come!
Jenna Macdonald
STRAND, Vancouver, Canada
We have worked with Lunas on a number of our multifamily projects and some of our academic projects over the past few years. What we like about Lunas, aside from their excellent visualizations, is their ability to commit to deadlines as well as their communication skills. We look forward to some more work together in the future.
Jon Kelly
Tyler+Kelly Architecture, Los-Angeles, USA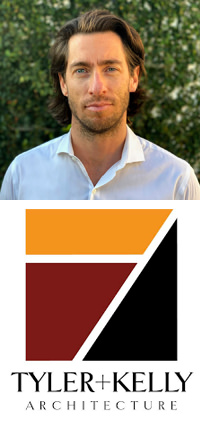 This was the first time that we have coordinated renderings with anyone, so we didn't know a lot of things. Lunas did such a great job of putting together a package that illustrated the whole process and they were very responsive to our comments on each stage. We deeply appreciate Lunas bringing our design to life and making it look so beautiful!
Lydia Underwood
LYNE Interiors, Nashville, USA
From year to year we never stop developing and improving our company and team, our services and products. Here is our personal guideline into the future success built up from our aspirations and values, and the vision of Lunas leadership.
Year results and future goals from the words of Lunas C-Level
Together with our CG artists team, we have long been testing out Unreal Engine possibilities and employing it in our craft. Over the past year we succeeded in achieving the level of quality indistinguishable from Corona which is a great result in our opinion and an inspiration to create more stunning visualizations based on Unreal engine.
Down in these examples, you can see it for yourself: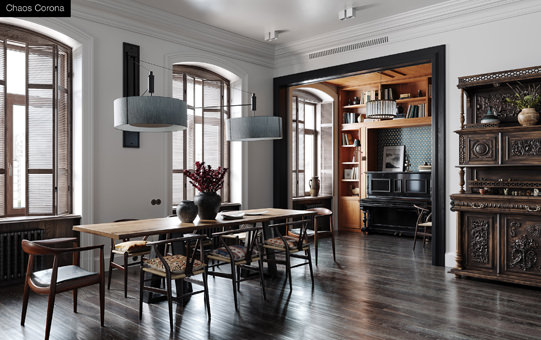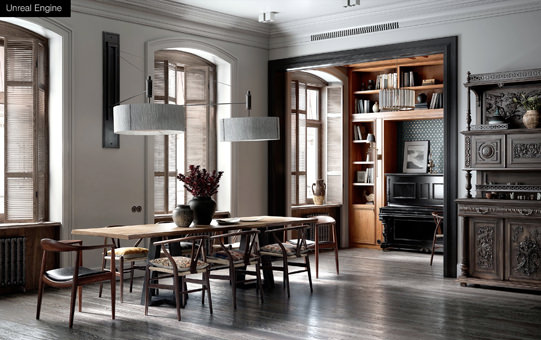 Our goal next year is to continue reaching ever new heights in our work – and I mean every word of it as the company's chief technical officer and co-founder.
Max Lykasov
CTO, Lunas Co-founder
Mastermind behind technicality, quality and innovation of visualization services and products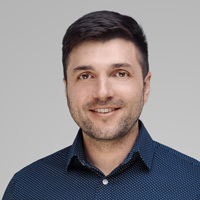 In the last few years, we had to adopt new rules of communication, to switch mostly to online and remote means which of course have their own advantages. In 2022, luckily for us, we were finally able to return to face-to-face meetings and industry exhibitions. I have to say, it is a thrill to meet with clients in person and communicate off-screen! This year we are determined to hold more live meetings, partake in trade shows and conferences while we remain your trusted partner in 3D visualization.
Slava Oganesian
CEO, Lunas Co-founder
Primary person of business communication with customers and partners
All these 7 years at Lunas, we have been working hard to remain on top due to high quality visualization (the merit of Max together with artists team), client-focused communication (thanks to Slava with project management and client relations units) and our internal business processes streamlined so that each member exhibits their talents and skills for the client's maximum benefit. The past year was no exception, and we further improved our fundamental triad of "quality of services – quality of communication – quality of processes" to remain your reliable partner and support in the new year. Let 2023 be everyone's ladder of new successes – we are always there to help!
Maria Kladova
Chief Operating Officer
Guarantee of all business processes smooth functioning and task implementation among departments, strategic-to-tactical planner
Thanks for joining us on a journey through our year! We hope the coming 2023 will be full of opportunities to evolve, get to know each other closer and create things you can only imagine. Stay in touch with us!