In 2022 Lunas 3D rendering studio has taken part in MIPIM real estate exhibition and at first we intended to focus on our experience there. However, having attended MIPIM before as well several other international property events, we've decided to elaborate on expo-related matters at large, including but not limited to some issues that can arise in the run-up. We hope both our partners and competitors will find this article of service since, if we may paraphrase Hans Selye, competition and mutual assistance equally contribute to growth, strength and ability to keep up with the market's demands.
Table of article content:
Why visualization companies should attend international real estate exhibitions
For a company specializing in 3D rendering services and virtual reality technologies participating in an international fair presents an opportunity that can be neither overemphasized nor replaced. Such events are one of the greatest advertising tools, serving as a unique business event to connect with existing and new customers as well as to observe your competitors and their innovations. The whole good old a-picture-is-worth-a-thousand-words notion is far beyond simply reasonable and true when one deals in visual products such as 3D renders, animated videos, interactive 360 degree virtual tours, configurators for interior design, furniture, living compounds and so on.
First and foremost, there's nothing more appealing to a customer than the occasion to see, feel and explore a product on their own, e.g. flipping through a high-quality portfolio book, embarking on a walk-through tour of a brilliant architectural visualization project in a VR headset or choosing an apartment in a residential complex via a touchscreen photo-realistic presentation.
Secondly, international real estate exhibitions not only provide insights into the latest market trends and solutions for 3D services, best practices in the field, marketing and presentation techniques, but also make it possible to get acquainted with rivaling companies' designs and to receive first hand feedback. It is also a means of accessing your target audience, their preferences and expectations.
Thirdly, it's a chance to make an appearance and grasp the attention of future partners and representatives of niche press and online media, unlikely to come knocking at your office door otherwise. Presenting at a large-scale exhibition is a milestone for a firm's reputation in itself, marking a promising and viable enterprise that one can afford to get involved in.
According to PR and promotion experts, partaking in international exhibitions ensures a company against trailing behind, while opting out can jeopardize their market share and eventually make them irrelevant.
Why other 3D visualization studios may benefit from our experience
Lunas is a 3D rendering company with more than 6 years of experience in the field. Throughout the years we have worked with hundreds of clients from all over the world. The scope of our customers ranges from large and middle-sized architectural and interior design studios in Australia, Europe and Northern America to leading developers from Canada, USA and Saudi Arabia.
We have designed thousands of projects encompassing still imagery, animation, interactive tours and configuration software. Since Lunas was founded we have showcased our software products and rendering services at more than 10 major international exhibitions, each and every contributing immensely to our pool of clients, partners and useful contacts and enhancing our expertise and capabilities.
We have partaken in the following notable exhibitions as either an exhibitor, a co-exhibitor or a visitor: key international fairs in the domain of real estate i.e. MIPIM (the world's leading real estate market fair) and MAPIC (international retail property market expo) in Cannes, France; Proptech & Propel in Paris, France and New York City, USA; Expo Real (the biggest trade fair for real estate and investment in Europe) in Munich, Germany. Naturally, the article centers around our experience as a 3D visualization company at these shows.
How to choose a real estate exhibition
Visiting a real estate fair can be rather costly, thus it's highly advisable to review your options thoroughly.
Consider the specifics of an exhibition 
Do examine the subject matter and general area of focus of a particular real estate show. It makes more sense for a 3D visualization studio to opt for events rich in their target audience i.e. architects, designers, developers and property investors. However, there is a catch. A trade show may be organized as a B2C event with a view to expanding the pool of clients of real estate agencies. Such events are designed to draw in potential property buyers, who can come to an agency's stand, have a chat with the agents there, and look through the roster of houses and apartments available. Thus, they are often free for visitors, but serve a different purpose than MIPIM and Expo Real, which are of another kind with higher admission fees and a significant total of decision-makers attending.
Take account of the venue
Secondly, factor in the location. It matters both from the point of turnout and travel costs. If you're a European 3D rendering studio, it makes more sense to start off in either Cannes, Milan or Munich than fly your whole team overseas. Consequently, if you are based in Canada or the USA, head for New York or Toronto.
Research your competitors
Thirdly, you want to play smart and check if any rivaling companies are coming. Watch out, though, they may either be inexperienced or miscalculate and choose the wrong type of fair. You can also encounter a fresh and less mainstream niche event, thus breaking the ground. Basically, researching your competitors doesn't rule out any of the suggestions above.
Estimate the costs
Fourthly, it's advisable to calculate your expenditure and its rate of return in advance. Remember that your outlay is not limited to the exhibition fee only, but has to account for travel and accommodation costs for your team, their daily expenses, design and printing of promotion giveaways, coverage of the team's wages in the run-up to, during and following the exhibition.
Ways of entering real estate exhibitions
As a rule, there are three most common ways a 3D visualization studio can partake in professional exhibitions:
Visitor – coming as a visitor enables you to move around the fair freely as long as you cover the admission fee;
Exhibitor – taking part as an exhibitor entails renting a space, designing and styling it in tune with your corporate identity and equipping it according to your needs so as to present your products and services;
Co-Exhibitor – being a co-exhibitor means you're provided with a space (of particular footage) at another's stand, e.g. a larger partner's or at a municipal booth e.g. a City Hall sponsored booth with various participants to introduce to the local public.
Joining as a visitor is the least expensive option, but it provides little to no engagement with the target audience and few opportunities for raising brand awareness. Participating as an exhibitor is the most costly, but the possibilities are abundant: you can host more meetings and leave a more lasting impression on potential clients, your company can be listed in the catalogue with all the necessary contact information and on the organizer's website.
Attending the exhibition as a visitor
Even if you have already set your mind on going as an exhibitor, ignore the yearning to scroll forward. This part can come in as handy as any. Now, you have settled on a particular exhibition, researched the participants and competitors and, not being in the mood for arranging your own stand, you have made the decision to go around the exhibition on your own two feet. It's time to get ready.
Before the event: aim at marketing materials and corporate identity
Start getting ready to present and promote your services a few months in advance: compose a draft of your speech, go through it several times making the necessary changes, make a mock up presentation in front of your colleagues and ask for feedback. You have to be short but persuasive so that your listeners don't feel strained. Make sure you can cover the essentials briefly and can wing it occasionally. Talk your pitch out, it will help you hold your ground when presenting later. Your pitching skills and vocals can get rusty unless put to use regularly. Besides, it's common knowledge that forgetting half of your notes is attributable to stress or pressure, but there should be the other half to work with, so double-check if you have plenty. Avoid learning it all by heart – mechanical reciting does little good. In other words, your best shot is at being naturally confident and with a sound understanding of what you are doing and saying.
Preparing giveaways and marketing materials
Go through your marketing materials and giveaways beforehand. Consider what you are going to bring with you. Business cards are a must, so arrange for a sufficient amount and maybe a little extra on top (better safe than sorry). Your card is in many ways the company's image, a way to make a solid first impression not only with words, but also with touch, so you'll hardly want to look or feel cheap when it comes to paper and printing quality. The devil's in the details as much as it wears Prada, i.e. an impressive visiting card is a tool in itself, a token worth keeping at least for the sake of its artistry and charm.
It's always advisable to aim for high-tech printing techniques such as UV, which can be used for plastic or metal base, or silk screen with embossing, rather than a thin card with low-quality digital prints. Along with traditional business ones, e-cards are an option too. Find online platforms to create an electronic card and generate a QR code to access it. Some people always refuse printed cards and their reasons may vary: some have their cardholders full already, others are vigilant to hygiene, some are eco-activists, while a few are futurists with no need for anything but a smart device to work their way around. Anyway, with a QR code and an e-card at hand you can count on your contact info reaching their phones instantly.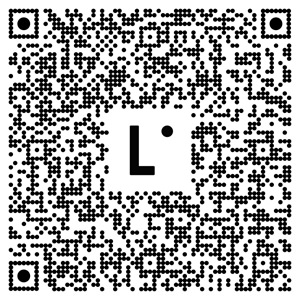 Order the lanyards for your badges in line with your corporate identity, preferably featuring your logotype. Most likely upon arrival you'll be presented with a badge and a lanyard as well, but those will be marked with sponsors' labels, while your efforts should be steered towards promoting yourselves, not the sponsors. There's nothing against replacing the lanyards in the exhibition rulebook.
You can also arrange for corporate t-shirts or hoodies, but we have found it rudimentary in terms of your general style and appearance. T-shirts with logos are better suited for a team dishing out leaflets in the aisles, while you want to make a point of looking like an equal partner. We recommend embracing business casual at its smartest with a corporate lanyard and a handful of fancy cards in your pocket.
As far as giveaways are concerned, if you are determined to bring portfolio-like leaflets with you, take into account you'd have to carry them around all day long. Thus, consider smaller-sized and less heavy options. It might be a good idea to focus on your best projects accompanied by a reasonable amount of information i.e. not several volumes of hardcover encyclopedias.
Your laptop is as good a substitute for giveaways as any. It's easy enough to upload the necessary graphics to and train to scroll through them seamlessly during your pitch. That's the outline for visitors. As you read on, you'll find an extended guideline for exhibitors in the corresponding section.
Scheduling business meetings
It's highly important to schedule your meetings. To ensure you get the most of your time there, arrange your sessions with would-be clients and potential partners well in advance. It's a common practice for large-scale events to set up an online platform with all the participants featured along with their contact information. Sometimes your corporate email is visible to the general public, other times it is only available for registered users, in any case we strongly advise contacting as many participants of interest to you as possible (e.g. try sorting them out via area of expertise filters on the website) and schedule a meeting. Keep track of all your arrangements in an actual calendar, otherwise a sloppy record of where and when you need to be can backfire. Allocate at least 30 minutes per talk and allow for travel time i.e. to make your way to another booth in no rush. Be realistic about your personal needs, lunch in particular, so set aside an hour to fill up and recharge your batteries.

In our experience it has proven useful to initiate the mailout several weeks ahead, but the replies are most likely to start coming in a week before the exhibition starts. Keep your emails short and to the point, providing key details of who you are, what you are offering and how long your presentation will last. Approximate as it may be, people will appreciate the consideration on your part.
In our emails before Expo Real we indicated that the pitch will be up to 10 minutes and that is exactly how much time some of the participants allocated for it. Meanwile, all of them paid their utmost attention and exchanged business cards with us, which laid the groundwork for future cooperation.
Finally, when choosing the place for your meeting, remember that in fact you'll only have two options – a firm's stand if they're exhibiting or some sort of public place if you're waiting for another visitor. If so, we suggest you study the floor plan for lounge zones beforehand. More often than not, they're nicely equipped with a few coffee tables and comfy sofas quite suitable for such appointments.
Running social media campaigns
Be sure to post the news about coming to the fair on social media and the company website. When putting your social media to use you can design a special layout headlining your products and services (e.g. the background can showcase a render) as well as the name and date of the event.
During the exhibition: conduct business meetings
As a visitor, your top priority is to make it in time for all the scheduled meetings and conduct them in the most productive manner. Hopefully, you have set aside a comfortable margin in case some of your associates are late, these things can happen.

If your meeting is to happen at a firm's counter, there is certain to be a receptionist, whom you should turn to first, introduce yourself and offer your business card, then specify who you have an arrangement with. They will either accompany you to the right person or the receptionist will call for them to come out and greet you. When meeting a visitor, escort them to one of the lounge zones.

We highly recommend taking notes after every meeting. Each and every conversation and as soon as possible, yes. With such intensive flow of information it might be hard to tell certain details apart later. We usually jot down the following: a few words about the person (their appearance and outfit, some distinguishing features), what was of interest to us as a 3D rendering company in their pitch, what we agreed upon.
For instance: Malk Jonavich, a tall man in a pink suit; a Slovenian developer representative, mostly construct low-rise buildings, want to start work on three new building compounds in 2023, looking for innovative promotion tools; interested in static images and animation as well as interactive real estate presentation software L-TOUCH; follow-up –schedule a meeting with them and the partner, send the prices for statics and L-TOUCH beforehand.
If you were unable to meet with someone, we suggest leaving a signed business card (along with a leaflet if you printed any) at their receptionist's desk.
After the expo: reaching out your partners
After the expo it's important to follow up with a mailout to all of the representatives you had meetings with. This is where your after-meeting notes can come in handy. We advise against a standardized newsletter with identical text for everyone. Instead, try to highlight how much you enjoyed the talk and remind them of some details, mention their interest in this or that product, draw up a relevant offer and attach illustrative materials. This way you will increase the chances for a positive response.
With a view to leaving no-one behind, try and contact the companies you didn't manage to sit down with. Express your regrets, inquire after their experience at the event and remind of yourselves and your wide spectrum of 3D and CGI services.
Keep in mind that a multiple letter thread is the most efficient, so even if your first email goes unanswered, follow up with a few more. Your letters should make sense rather than look like a robotic newsletter with a sprinkle of annoyance. Besides, lengthy emails rarely find their audience, while laying it thick with links will surely land the letter in a spam folder. Brevity is the soul of wit and your best friend.
Attending the fair as an exhibitor
Exhibiting requires a more sizable budget and extensive preparations. Hopefully, you haven't skipped the previous section, since compiling a presentation, printing marketing material, before- and after-event mailout recommendations still stand. Now, imagine you have decided to attend as an exhibitor, what's next?
Before the exhibition: stand out from the crowd
Setting up your exposition booth
Secure and set up a stand. Reservations for a stand space are made well in advance, from half a year up to a whole year beforehand. For example, if you want to book a booth at Expo Real in Munich which takes place in October, you have to apply in early March and wait for the organizing committee to consider your application and get back to you (no sooner than in May). Booking for MIPIM has to be arranged a year ahead of it. Surely, you can secure a venue space later on, but your options might be limited with benefits scarce. Prior to signing a lease agreement, examine the floor plan, its legend, the stand's location and surroundings so as to ensure against surprises of any kind.
When booking a booth at MIPIM we were offered what seemed like a nice area along the aisle leading to a conference hall. There was a small (but tall) catch – a column right in the center of it. Somehow this rather significant detail got overlooked and was only brought to our attention by the decorating team, who came forward with ways to make use of something we never intended to have in the first place. A few emails and calls with the MIPIM person later, we managed to get a stand with no architectural surprises. But for that observation, we would have landed a booth which simply couldn't accommodate the 55-inch touchscreen we had ordered.
Study all the fees for exhibitors, since participation costs are not limited to renting the necessary square meter.
For instance, Expo Real fees include daily cleaning and waste disposal fees as well as a mandatory communication fee which covers the basic entry in all trade fair directories. All exhibitors are also charged a fee by the Association of the German Trade Fair Industry (AUMA fee).
So you have booked your square meters and put down a deposit, what then? It's time to come up with original booth decoration ideas. It's common for trade show organizers to offer design-ready options. You can ask for a catalogue, look through it and choose one that suits you best, pay for it and forget about the whole decoration part. On the plus side, you won't need to search for designers, approve their layout ideas, hire contractors to put the booth together and deal with all sorts of routine issues. On the minus side, it's hardly possible for your design to be a perfect extension of your corporate identity. Most likely, you'll have to make do with a similar color scheme. If right now you're considering designing and decorating your venue zone from A to Z on our own – re-consider.
We kindly warn you against indulging in any DIY projects when exhibiting. You may face a range of challenges and pitfalls pertaining to fire safety and security, installation access requirements (e.g. gear, helmets, specialized shoes, etc.) and a range of other technicalities we advise against getting involved in. It's recommendable to either go for a ready-made design ideas of your booth or hire contractors experienced with this particular event if you're custom-designing.
In the run-up to MIPIM we worked with a third-party designer, who created the booth layout for us. We then signed a contract with a company servicing a quarter of the exhibitors, large and small. It was also with their assistance that we rented the essential equipment i.e. a 55-inch touchscreen we needed for interactive presentations, meanwhile they ran it by the local authorities and filled out the required paperwork.
Plenty of events offer the so-cold startup stand option, which is usually considerably less expensive. Naturally, it won't be too spacious and you'd have to meet certain criteria to be eligible for it, but it's a good choice if your budget is a little tight, but you're not in for walking your way through as a visitor either. Startup counters are often ready-made with only a few images for you to send for print (and then, not always). Other times it's not really a booth, but more of a desk (e.g. 1 m2 at Expo Real), which is nonetheless more convenient than visiting.
Get your marketing giveaways and merchandise ready
Above all, spread out your business cards on the receptionist's desk, so that anyone interested (from a passer-by to a potential business partner) can have one. They should be in sufficient quantity and preferably have a sticker with your stand number on, thus making it easier for others to find their way back to you if need be.
As for lanyards, visitors and exhibitors alike should have them tailored to match their business identity.
Leaflets, on the one hand, are a good illustrative tool, but on the other hand, only a few people will pick them up. Anyway, avoid being stingy about paper and printing quality, go for smaller-sized and thin ones (e.g. A5 is our favorite) and cater for your visitors' comfort with a counter to take them from (pre-discussed and arranged with your decorators).

Besides business cards and giveaways, it'd be nice to have a portfolio of your 3D visualizations in hard copy on high-quality paper. We at Lunas designed it as a bound hard-covered A3 volume with photo prints of our 3D renderings. The album was incredibly popular, visitors came and flipped through it with delight. And frankly, large format prints are often a hit.
If your budget permits it, incorporating some sort of merch with your studio brand might be worth it, too. It can be anything from sweets and bubble gums in corporate styled wrapping, stationary like pens or pencils, tote bags with logos, anything you can afford really. Keep utility in mind, your merchandise items should be of use so that they're often at hand with your logo in sight. Feel free to experiment and be unconventional.
At MIPIM 2019 we offered interactive virtual reality tours. When visitors came to our counter, we suggested they put on a headset, take a controller and have a walk around virtual reality apartments. As they roamed the rooms, they could explore and modify different attributes i.e. furnishings styles, colors and designs of items, they could also lift objects with their hands. Having reached a table with stress balls in a wire basket on top, they were invited to take one. On the surface, there was nothing special about a silver ball with a Lunas logotype on it, but we came up with a way to make this moment along with our presentation and brand memorable. As they were holding the virtual ball in one hand, we asked them to hold their other palm open and put the ball there on the count of three. Expecting nothing but an insignificant rush of air from the non-existent ball and small hand movement, all of them were positively startled to feel an actual tangible stress ball land on their palm. Since all of their virtual exploits were projected on the main screen, we could seize the opportunity and time the trick of placing a solid ball in their palm perfectly. Overjoyed at the adventure, they left our booth beaming and with a story to tell.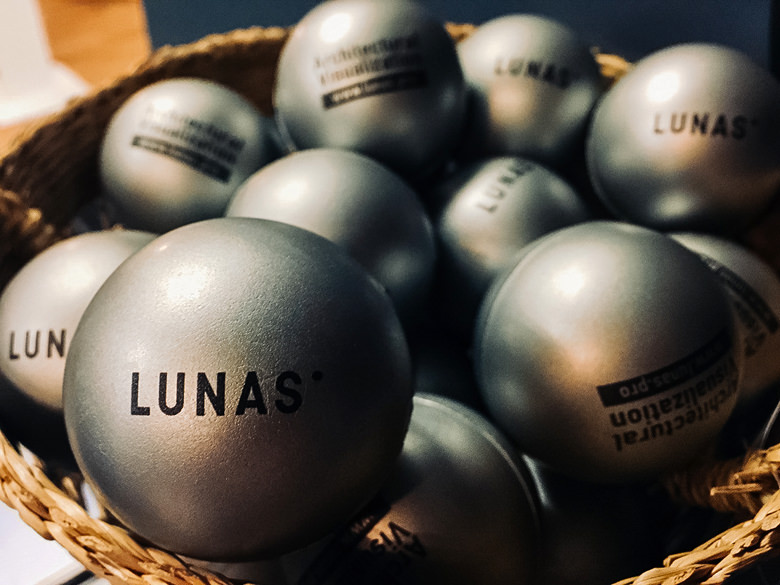 Mailout to other participants. As with visiting (see above), it's indeed imperative to send out emails to other exhibitors. A chain of emails is preferable, but they have to be concise and noteworthy. You can present a detailed outline of your services at the stand, meanwhile it's only logical that your emails should point out the stand number and had better include a piece of the floor plan with your venue location highlighted. Avoid overloading your emails with images and links, they will either look spammy or land in the spam folder entirely, never to reach its reader.
Presentation of your 3D services. Pitching is rarely pulled off perfectly right away, it's something you should gear up for i.e. draw up a draft text or a few talking points, go through them out loud, if possible, schedule a mock-up presentation in front of your colleagues to practice demonstrating the visuals on your laptop, tablet or a big screen, depending on your booth concept.

Social media posting. Schedule several posts about the upcoming show, put the dates and your booth number in profile bio and make some noise about it. A major international real estate trade show is also an image-building opportunity. Taking part makes you look prominent and respectable in the eyes of potential and existing clients. Check out 'for visitors' recommendations for more in-depth ideas.

Test all your hardware and inspect the stand space. As a rule, a day or two ahead of the event you are allowed access onto the premises, so we recommend setting up an appointment with the decorators on the spot and going through every square meter of stand area and devices together. See if the booth complies with the final terms of reference, the equipment and lightning are working or extra furnishings are required (e.g. extra chairs or a merch counter). Make sure the cables are long enough to reach a designated functional outlet, get an extension cord if they aren't, check your storage lockers and the number of keys you have on hand. In other words, take care of the trivia.
During the exhibition: setup teamwork at the booth
First of all, don't panic. Come to your stand early to turn all the equipment on and arrange everything you need in no hurry. Remember to smile and enjoy the process. Hopefully, you're not managing everything on your own. Our experience has repeatedly proven that a team of 3-4 colleagues is your best shot, even though in theory a booth is manageable by two, you'll find yourselves rather short-handed in practice.
It's important that two people are on standby all the time, since there can be a number (or even a crowd) of visitors sometimes. If possible, one of you should always attend to the receptionist's desk, beaming with hospitality and ready to answer any questions. The reason being, if a passer-by sees your whole team busy and no-one in sight to turn to, it's likely that pass by they will and unlikely that they'll come back.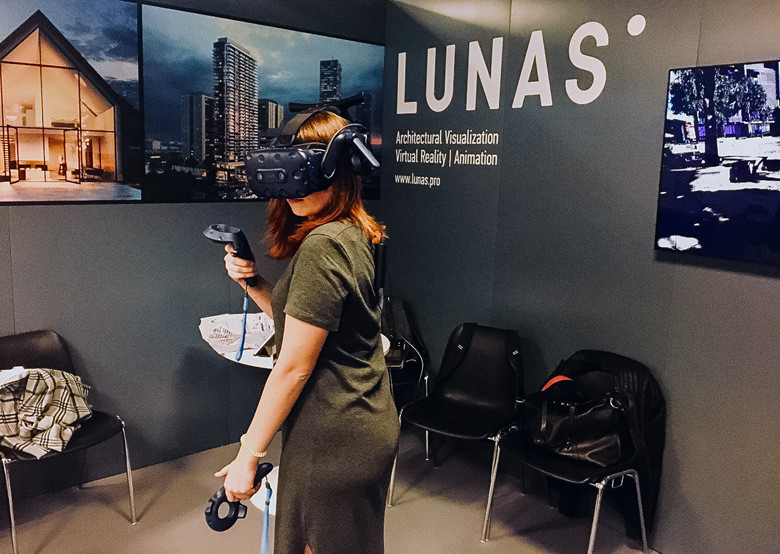 Another two of you can go around the fair inviting others to come to your counter and handing out business cards with your booth code on them. So thoughtful of you to have followed our advice and order the stickers in advance! It's only natural that each of your team members cover an allotted area of the exhibition, so that you can avoid overlap, but cater for as many fellows as possible.
Giving out leaflets in large numbers has to be arranged, coordinated and paid for separately, so consider the efforts, expenses and people to spare.
Take part in evening functions. Opening nights at major companies' offices, evening cocktail parties at the stands, special dinners and afterparties all present an opportunity to meet the right mates, potential partners and new clients in a relaxed and friendly setting and to master the art of small talk.
As we mentioned in the visiting part, keeping a table of meetings is highly useful. As you attend to your visitors, try and keep track of them and your notes in an orderly fashion. A comprehensible table will make it easier for you to draft your follow-up mailout in line with each person's interests and inquiries.
And don't forget to check out the competitors and their stands!
After the exhibition: approach your audience
As we've mentioned before, a follow-up mail out is a must. Feel free to contact everyone you had a meeting with, making use of their questions and any notable details from your conversation. Your attentiveness will most likely be appreciated.

It would be wise to publish some news on your blog about the expo, your experience there, any insights or observations as well as some recommendations and a photo of a nicely furnished stand.

Social media posts with pretty exhibition pictures will be of benefit as well.

If you're considering coming back next year, get in touch with the organizers, ask a few questions about either your stand or other exhibiting areas. Some real estate exhibitions have the rule of priority, ensuring that regular exhibitors are served first and the remaining booth spaces are distributed among newcomers. If you enjoyed both your venue location and the experience in general, taking advantage of that rule will only make sense.

Don't get too upset if your mailbox isn't flooded with new orders right after the event. The benefits as much as the profits from exhibiting are medium- to long-term i.e. a new client can turn to you 6 to 12 months later having safely kept your contact info and their impression of you. Surely, you'd want to rekindle their merry recollections with a casual email, but try to keep it subtle rather than tiresome and irritating.
Attending the expo as a co-exhibitor
Having established the basics to take care of before, during and after the exhibition in the previous sections, we're now going to focus on ways to attend less expensively and yet have a desk at your disposal even if you can't qualify for a startup counter. In that case you can co-exhibit at a city or region booth, which you're eligible to represent if your 3D rendering firm is based in the area.
For instance, we partook in PropTech New York as co-exhibitors showcasing our visualization services at Quebec / Montreal booth.
You can also co-exhibit as a partner at other's stand if they are willing to allocate the space for you. The terms and conditions of such collaboration have to be negotiated beforehand not only with your partner-company, but with the organizing committee as well.
Nuts and bolts of travel and accommodation
Such trivia as packing and booking a flight and accommodation might not look like proper advice material, but there's more to it than meets the eye, unless, of course, you know all about mistrals, snowstorms and blisters. If so, keep scrolling.
Renting apartments and cars
Accommodation has to be booked well in advance. The closer the opening day, the fewer options you'll see available. Whenever possible, look for options with little to no cancellation fee just to be on the safe side. We personally prefer apartments to hotel rooms, but that is probably just the pride and joy of making your own little fancy breakfasts. The choice is yours.
When we were getting ready for MIPIM in March 2020, the world, as you will recall, descended into a pandemic, so all our plans had to be either altered or postponed. So had the expo. Initially it was put off till June 2020, then September 2020, then again till March, June and September 2021 only to finally take place in March 2022. But for the no cancellation fee clause, we'd have lost thousands of euros – that's exactly what the prices for ordinary apartments are like in Cannes when MIPIM is staged.
Look for options within walking distance to the premises so as to save time and money on public transportation and car rentals. Besides, after a busy day at the exhibition, you'll rejoice at the idea of spending 15 extra minutes in bed. As for auto rentals, it's readily available at the airport, but has to be arranged ahead of your arrival. Keep in mind that renting a manual is cheaper than an automatic and that buying a vehicle insurance is substantially more reasonable than paying for potential damage out of the company's pocket.
For the fair in Cannes we rented a car to make it easier for us to move the equipment around since our apartment wasn't too close to the venue. On our way back to the airport in Nice we were greeted with vigorous gusts of mistral – a type of squall-like wind which eventually knocked down a fence on top of our auto. Luckily, there were no casualties and even though the vehicle was badly damaged, the insurance covered it all.
Air travel and other trifles
A few words about flights. As is the case with accommodation, book in advance and opt for flexible tickets. You'd better pay extra to cover any emergency and be able to change your flight dates or return the tickets if necessary, than have zero reimbursement at all. Importantly, it's a good idea to make provisions for flight delay and cancellation, particularly if you have a transfer planned, rather than try to fly in on a same day basis.
Once, as we were headed for a layover in Frankfurt, snowstorms hit and due to additional airframe works prior to take off, flights started to get significantly delayed and eventually canceled. There were enormous queues at airlines' and information desks, crowds of people were moving around, people were starting to settle on the floor. Some were able to get a travel kit and a free stay at the hotel with transfer to and from the airport covered, when airlines run out of hotel rooms, they started setting up folding beds wherever they could. Our flight was delayed till morning the next day and check-in took up three times longer than usual. Fortunately, we'd set aside some time on our itinerary just in case and managed to come to the venue well in time. Had we planned for a back-to-back trip, we'd have missed the opening day and grappled with greater financial losses than an extra night at the hotel.
It's no less important to examine health and safety requirements and entry regulations not only for a particular country, but also for a particular event. As of today (May 2022), many countries have yet to lift COVID restrictions.
Do not bother buying new shoes! If you already have acquired a new pair, wear them in for a while to make sure they are nice and comfortable when you get to the premises. You'll have to spend the days on your own two feet standing, walking and at times running a little (or a lot, if you fail to keep your calendar in check) to make it to your next appointment. Remember to stock some blister tape, you'll be grateful later.
Having a floor plan on your phone and laptop is all good, but paper ones are also a must. Your phone's battery can go flat, Wi-Fi can be unstable and an app can just malfunction. You want to be in time for a meeting, so having a good old hard copy will do no harm.
Besides, make sure your phone bill is prepaid and roaming services are working fine. With all that calling – to specify your meeting place, to notify your partner that you're running late (some days, you will), to explain what you look like and how they can identify you in that gorgeous dark-blue suit in a crowd of others in their exquisite possibly dark-blue suits, to provide directions for your venue location, etc. – it's important you are available.
Summing up our experience in real estate trade shows
Despite the fact that over the last few years we have witnessed the world go online in and out, with even some of the most conservative clients adjusting to Zoom calls, we at Lunas believe that real-life communication will never cease to hold some benefits. The opportunity to sit down at a nice table facing each other, to ask questions and get a reply with no connection breakup or signal delay, to flip through an exquisitely compiled portfolio of your 3D renderings, to test an interactive presentation with your own hands on a huge touchscreen, to have a drink with your colleagues and partners after work is done for the day is an invaluable experience. this is something one can never enjoy in its entirety online.
International real estate fairs and specialized exhibitions gather industry representatives, existing and potential partners and customers together and provide them not only with the chance to present their services to a committed target audience, but also to enjoy the event itself and build upon the experience in terms of advertising, promotion and brand recognition.
Furthermore, partaking in a large-scale trade show presents an incentive for the company: the employees are often delighted and highly motivated to contribute to the preparation process, to explore new ideas and to polish off their pitching skills. Clients' praise and acclaim, the overwhelming amount of positive feedback for your 3D renderings, animated videos, 360 panoramic and VR tours tend to provide a positive disturbance to the otherwise routinely pool of daily tasks and activities.
Lunas has managed to acquire new clients after every exhibition, most of which continue to work with us on a regular basis requesting not only visualizations and animations, but also software products like L-TOUCH. That is why we believe it's worth the trouble to visit and exhibit at international real estate fairs and we hope to see you there soon!