In the past year, Epic Games provided early access to Unreal Engine 5 – the next major evolution of Unreal Engine 4 which has already set a high bar for a wide range of industries from Engineering & Construction to Virtual Production in movies. It has been redesigned and enhanced for the next generation of real-time visualizations and interactive walk-through tours and unlocked even more stunning levels of realism and immersive experiences.
UE5 was officially released with the features improved and bugs fixed in April 2022. Currently, such major game studios as CD Project RED, Remedy, Codemasters, and many more are already using Unreal Engine 5 as their development engine and the number is gaining momentum. The engine also brings lots of new interesting features and improvements for 3D artists and Lunas studio has already started to make the most of them.
This article will help you not to get lost in all of the new possibilities Unreal Engine 5 has to offer and focus on those that are essential for architectural visualization and interactive experiences. Make yourself comfortable and without further ado let's get started!
Getting Unreal Engine 5 for Windows
Installing the engine is a quite an easy process and involves the following steps:
Download and install the Epic Games Launcher
Sign up for an Epic Games account if you don't have one, or sign in into your existing account.
Open the launcher, go into Unreal Engine menu and open the Library tab. Then, click the plus icon, pick version 5.0 and click install. Accept the license agreement and choose the install location.
Optional: to save disk space, go to Options and uncheck Android, HoloLens 2, iOS, and Linux packages, if they are not going to be your potential target platforms. This can save the downloading and storing of over 31 Gb of disk space.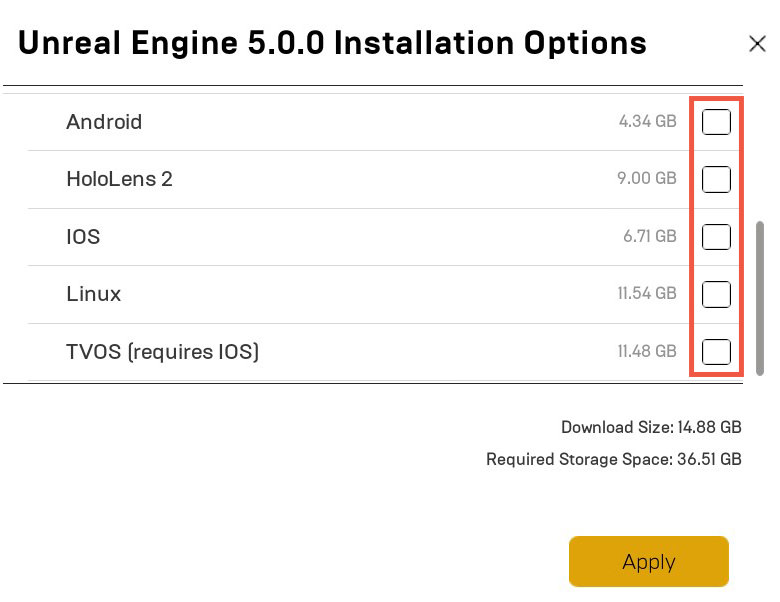 New Features of Unreal Engine 5 for Visual Artists
Lumen Lighting System
Lumen is a dynamic global illumination system that complements (and in the future will completely replace) the previous lighting system based on ray tracing. It is also set to seamlessly integrate with other new systems such as Nanite, World Partition, and Virtual Shadow Maps. In order to enable Lumen, go into project settings and make sure these options are on.
Compared to the ray tracing, Lumen brings substantial performance gain while mostly preserving the realistic look. Additionally, Lumen global Illumination works even better than its predecessor RTXGI, showing more tonal variations and diffuse bounces.
Left: Ray tracing, 34fps / Right: Lumen, 51fps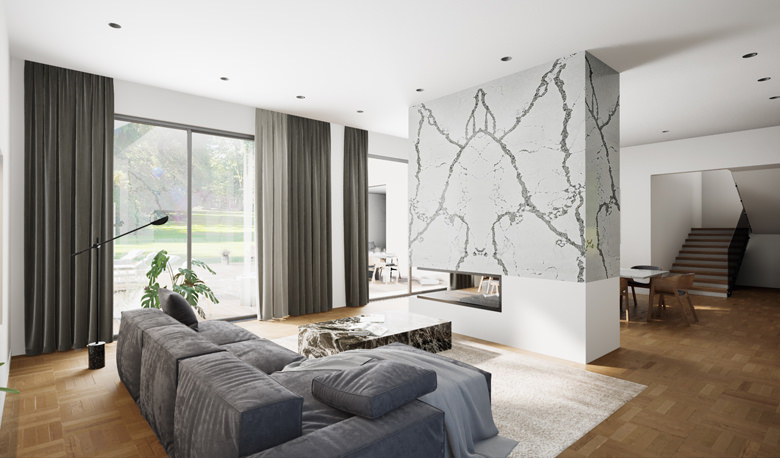 Lumen illumination system ensures greater photo-realism while keeping efficient performance.
Nanite Geometry System
According to Epic Games Nanite is a virtualized geometry system that uses a new internal mesh format to render pixel scale detail and high object count. In simple words, Nanite allows you not to worry anymore about polycount and quantity of meshes in your scene and makes the life of material artists and level designers a lot easier. Keep in mind that this feature is mostly suited for closed types of meshes. For meshes with lots of thin open parts (trees, grass, wires, etc.) it is not supported as of now.
When you import a mesh inside Unreal Engine, Nanite is enabled by default. If you want to make sure it is on or convert some of the previous meshes to the new standard, simply right-click on the mesh and choose Nanite > Enable.
In our recent project, created with L-ROOM interactive product customizer, we used Nanite extensively throughout the scene and achieved high fidelity in the details. In the below example, you can see how Nanite adapts to the geometry of the column, dividing the mesh into high-poly clusters, and presenting the details without compromises.
Left: Nanite rendering / Right: In-game visualization result
World Partition System
World partition is a system for building large-scale worlds that automatically manages level data and stores it in memory so that CG artists don't have to manually divide large levels into sub-levels and write the rules for them to load. Now, all the data can be stored on one persistent level. All you need to do is to enable Streaming in the World Settings and set the Data Layers in the outliner (see the figure below).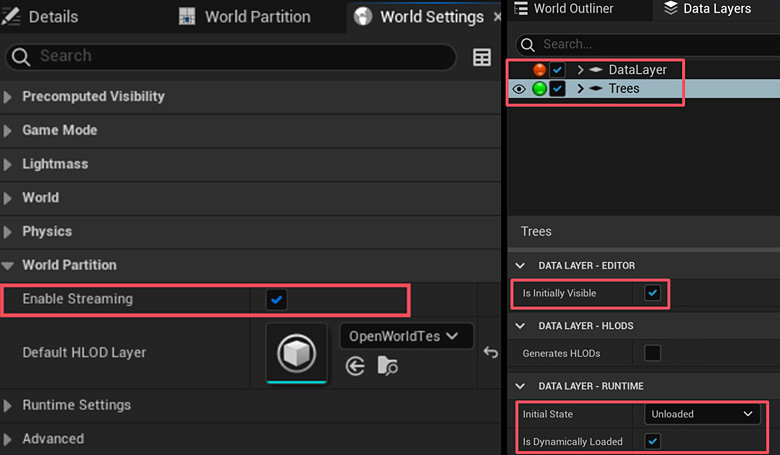 Geometry Tools
Geometry tools help artists to create and modify the geometry inside the engine as well as to do map baking and UV editing without back and forth with third-party modeling software. The list of features you can do with the mesh includes editing (extrude, bevel, insert edge loops), subdivide, warp deform, mesh simplification, remeshing, and sculpting.
Path Tracing
Path tracing is a tool that allows artists to take unbiased 3D product renders inside the already set project. For users familiar with Corona Renderer and V-ray the workflow would be quite obvious – you just need to set the desired camera angle and hit the render button. The render will be completed in several minutes or hours depending on the scene, and the result will be the same as in the offline renderer. Though the tool has its limitations (nanite, volumetric effects, and some minor features are not supported), almost all projects can benefit from this feature if you aren't running out of time.
Left: real-time ray tracing / Right: path tracing
Conclusion
With the emerging power of Unreal Engine 5, CG artists from different domains are given almost infinite opportunities to create striking content that is nearly impossible to distinguish from real-life imagery. We at Lunas studio always do our utmost to acquire new technologies and make our clients' experience even more engaging. With that in mind, we have already started to integrate Unreal Engine 5 into our workflow and developed a number of successful projects with the help of its new features.